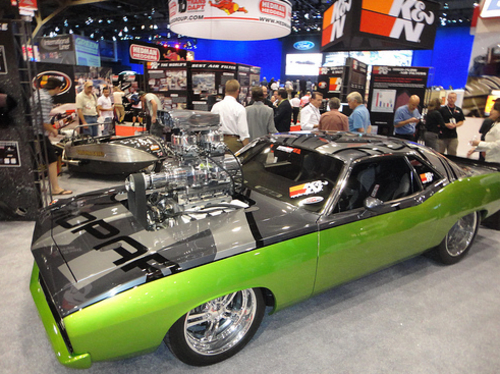 November is fast approaching, and for us car freaks, that means one thing: the SEMA Show in Las Vegas. The Speed Equipment Manufacturing Association (SEMA) hosts it every year and it is known as the world's premier trade event for automotive specialty products. Whatever gets your motor running, they have it. From classic cars to the latest mobile electronics, the SEMA Show puts the "car" in carnival with a circus of automotive accessories, hardware, concepts, technology, and everything in between.
Tint World® reps attend every year to see the latest and greatest auto accessories and products, and SEMA 2011 looks to be just as packed with exciting automotive stuff as any year of recent memory. Since we live for automotive aftermarket accessories, being at SEMA is like being a kid in a candy store – if the candy store was over a million square feet.
Tint World® SEMA 2011 Photos and Media Coverage
Unfortunately SEMA 2011 isn't open to just any gearhead, no matter how much you love cars. It's a trade-only event, but don't go pout in your garage because Tint World® is here to provide you full media coverage of the 2011 show. We like to take lots of pictures, videos, and notes, so come mid November you'll be able to get the complete lowdown on SEMA 2011 right here on the Tint World® Blog. To get a better idea of what goes on at this massive show, check out out SEMA 2010 photos from last year.
See The Latest From Our Top Brands
Another reason we love SEMA is we get to see all the latest products from our favorite automotive brands. Brands like Kicker, SunTek, MagnaFlow, Covercraft, Brembo, and plenty of others will be showcasing their latest products. That way, we can scout all the new products we might like to stock and install for customers like you at Tint World®.
Stay Tuned for More SEMA 2011 Coverage
If you're lucky enough to make it to SEMA 2011, that's awesome, we hope to see you there. If not, stay tuned to the Tint World® Blog where we will post a full recap in a series of posts and media content from this massive auto event. You'll feel like you were right there with us.
Heard anything really cool about the upcoming SEMA Show? Anything in particular you want us to check out? Drop us a line in the comments section and we'll be sure to snap a few photos just for you.