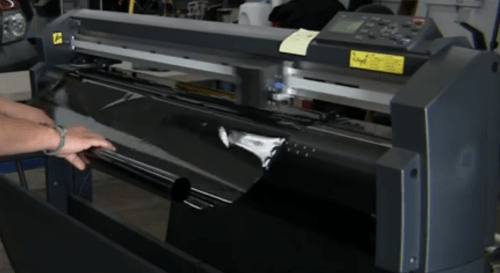 At Tint World® we strive to provide the best window tinting quality, price, and installation available. When it comes to window tinting, a precision fit is vital in order to get the most function out of your window tint and to get that cool custom look. After all, window tint is pretty pointless if you still have sun light shining through spaces at the edge of your windows, which is why we use a precise computer-cut film system so you can enjoy the best tint installation available.
One-Piece Cuts, 100% Automated
We love our employees, but when it comes to cutting tint no human being can deliver the level of precision possible with computer-driven machines. When you bring your vehicle to Tint World®, our technicians use an extensive vehicle database to locate the exact size and specifications of your vehicle's windows. The computer can then dial in those specs, and transfer them to a cutting machine, also known as a plotter, which cuts whole clean pieces of tint according to the exact size of your windows.
No Knives, No Risk
Our plotter does all the cutting, so all our technicians have to do is peel away excess tint and apply it to your vehicle. Since our tint pieces are all pre-cut, there is never a time that a knife is used near your vehicle, and no risk of damaging glass or rubber seals. Be wary of other tint shops that lay tint on your windows and cut it directly on your vehicle!
Expert Installation
Once the machines have done their thing, it's time for our certified window tint installers to take the pieces and skillfully apply them to your windows. With years of experience, our installers can deliver a near flawless fit, and since we cut whole tint pieces, there is no need for additional cutting and the margin for error is even further diminished.
So when you need window tinting, don't risk your vehicle to tint shops that do things the old-fashioned way. For the latest, most accurate window tint installation available, come to Tint World® and see what our computer cut film system can do.