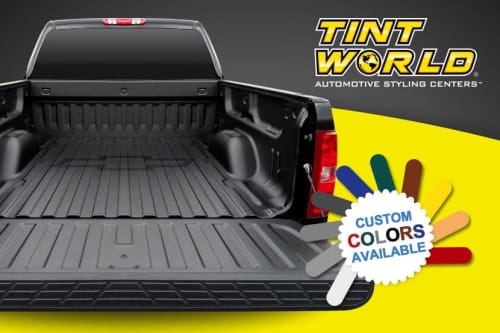 Don't mistreat your truck: Get it sprayed today!
You look closely at the used but well-maintained full-sized pickup truck. It has a richly appointed interior and extended cab. The exterior is shiny. The engine is clean. This is just what you've been looking for, and you mentally prepare to make an offer. Then you happen to glance at the truck bed. It is dented, discolored and dinged. The same care the owner afforded the rest of the truck didn't extend to the bed of the vehicle. For want of a bedliner, the deal is dead.
While a spray-in bedliner from Tint World® will obviously help your truck maintain or improve its resale value, bedliners have other benefits:
Corrosion control: Deep dents and scratches can speed up corrosion. A bed-liner from Tint World not only protects against scratches, it protects against the elements. It's a two-for-one value. Liners also shed moisture more readily than unprotected beds.
Load stability: Bedliners provide friction needed to better stabilize heavy loads. This prevents cargo from damaging wheel wells or rear windows and helps hold cargo lines in place.
Appearance: Tint World offers a wide range of bedliner colors and styles that can accent your vehicle or give it a whole new look.
Load protection: A bedliner can help prevent damage to furniture, tools, appliances or any other load you are hauling. The added friction will help hold it in place. If it does shift during transit, it will encounter a smooth, flexible bedliner, not the hard surface of an uncovered truck bed or wheel well.
The utility of our spray-on liners is not limited to trucks. We can spray boat decks, trailers, tool boxes, and wheel wells.
Is your mind made up? Don't just say it: Spray it!
Contact the closest Tint World today for a free quote or to set an appointment for fast and easy application!