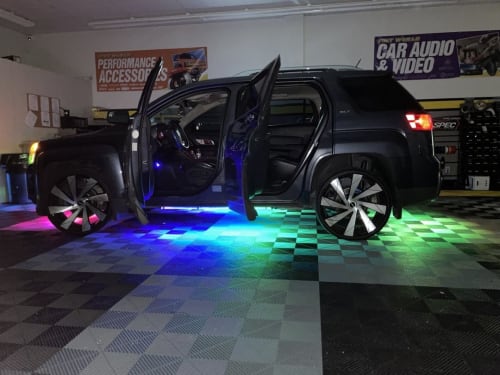 With fall and winter right around the corner, shorter days and longer nights are on the horizon. That means it's also time to dial in your automotive lighting setup to ensure maximum style and safety throughout your normal driving hours.
As the leading provider and installer of aftermarket automotive lighting products, Tint World® offers a wide array of custom lighting options to enhance the look and visibility of your car, truck, or SUV, no matter what ⁠— or how ⁠— ⁠you drive!
You can even increase security at night while approaching your vehicle! Take advantage of convenient remote access by controlling your vehicle's lights from your smart phone or watch. Our team of experts is here to help you choose the right package for your needs, while providing you with the peace of mind that comes with receiving professional installation.
Tint World®'s industry-leading line of aftermarket automotive lighting products and services include:
Exterior lighting: Tint World® offers custom lighting options for the underbody, grill, or wheels of your vehicle. With hundreds of color combinations and projections to choose from, the possibilities are nearly endless. Perfect for turning heads on and off the road!
Interior lighting: Match ambient color combinations to suit your style or mood. Even pulse or freeze your lighting to pair with the beats of your favorite songs.
HID lighting kits: The ultimate in performance, style, and safety, HID lighting is three times brighter than halogen and lasts 10 times as long. With a variety of colors and brightness levels to choose from, HID Xenon lights are a serious upgrade for night driving.
With professional installation services and a nationwide, limited one-year warranty, Tint World® provides nearly limitless options for your vehicle lighting needs. For best-in-class service and products ranging from HID and LED light kits, fog lights, halo lights, underbody and grille lights, off-road lights, side marker lights, and more, visit your nearest Tint World® Automotive Styling Center™ today!