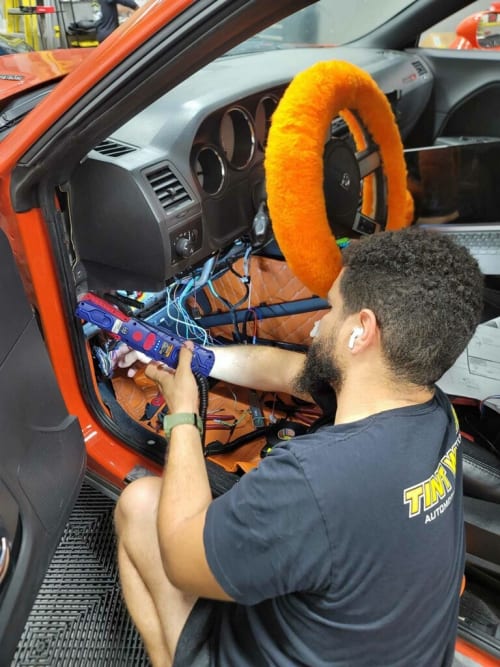 Many people think their vehicle's stock audio system is adequate. Later, after hours, weeks or months of listening to their favorite tunes in poor sound quality, they come to realize that their one-size-fits-all factory system just isn't getting the job done.
There are two options for anyone who finds themselves in this situation. You can live with the lackluster listening experience that's draining the joy from every drive.
Or you can do can bring it to Tint World®'s and let one of our automotive audio technicians transform your system into a concert hall on wheels!
Our team of highly trained and certified techs is here to help. We can guide you through our comprehensive selection of high-quality components. With trusted brands at our fingertips, we'll find and install the right equipment for you. Whether you decide to upgrade your existing system or develop a fully customized arrangement, we have everything you need to ensure years of full, rich, satisfying sound every time you hit the road:
The latest in-dash receivers deliver cutting-edge convenience.
Our high-powered amplifiers and equalizers offer precision sound-sculpting.
Our wide range of speakers provide mid- and high-range clarity and separation.
Competition-level subwoofers guarantee rumbling bass that will cause envy.
Life's too short to ride around with a dull and flat audio system. Upgrade your driving experience and boost the clarity of your favorite tunes, podcasts, and radio with the sound system you didn't realize you needed.
To find out more or to schedule an appointment, visit the nearest Tint World location.