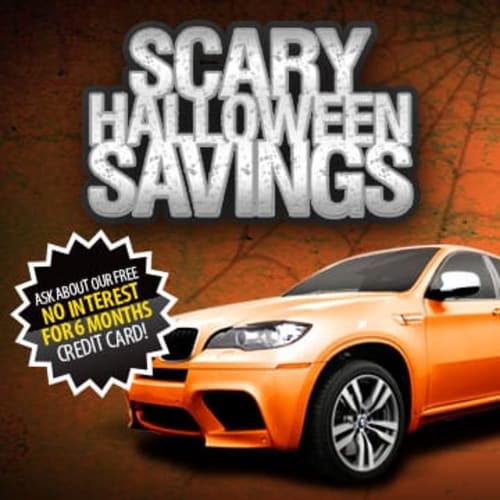 Don't be scared to treat yourself and your ride with some scary good Halloween savings from Tint World®. From October 21 through Halloween, you can take advantage of exclusive deals on mobile electronics, car audio, window tinting, vehicle detailing, and protective film. Don't close your eyes for too long, or you'll miss these great deals:
Save on Remote Starts! If you're worried about fumbling for your keys to start your ride this Halloween, stop by your local Tint World® Automotive Styling Centers™ location and get hooked up with a remote start package. Modernize your car, truck or SUV with this professionally installed mobile electronics upgrade and save 15 percent.
Lease Return Packages! Did you trick out your lease and need to return it? Don't fret – take it to Tint World® and take advantage of 20 percent off our Lease Return Package. Our highly-trained technicians will remove your tint, detail the interior and exterior, refurbish wheel damage, remove graphics, repair glass chips, and remove aftermarket electronics.
Free Gift Card with Ultimate Tint Package! What's better than 99 percent UV ray rejection from 2-ply Nano-Carbon XP™ window tint? How about a free $50 Tint World® gift card! During the Halloween savings event, you'll received a free gift with every Ultimate Tint Package purchase.
Attention to Detail! When you get Tint World®'s Ultimate Auto Detailing Package, your ride will come back looking so showroom fresh, your friends and family are likely to get jealous. During Tint World®'s Halloween savings event, you can treat your loved ones, or your fleet, to a couples' detailing deal and receive 50 percent off an additional Ultimate Detail package with every package purchase.
Blast Your Halloween Tunes! Looking to turn your ride into a monster-mobile!?! You can't forget the music and Tint World®'s here to help. When you buy a pair of Memphis Car Audio PRX62 Speakers at regular price, you can get a second pair half-off. Don't be frightened by all the extra wiring as well – let Tint World®'s trained car audio experts install your new speakers correctly the first time.
Protect Your Investment! Don't let your ride fall victim to Halloween mishaps – protect your paint and glass with Tint World®'s collection of protective paint and glass film. Our computer cut material is installed seamlessly with little to no indication that it's even there and can protect from scratches, tree sap, and weathering.
Don't get scared when these shocking deals on car, truck, and SUV accessories and services vanish – make sure to download our exclusive coupons today. Stop by your local Tint World® Automotive Styling Center™, or visit our online store, to take advantage of our Halloween sales event.