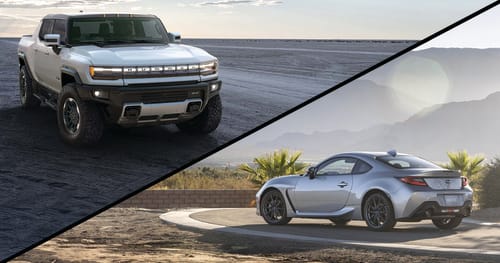 The Tint World® team doesn't hide the fact we're crazy for vehicles. Cars, trucks, SUVs, and beyond, they're our passion. As 2020 ends, we're looking ahead to some of the hot cars and trucks scheduled to debut in the years ahead. Have a look:
2022 GMC Hummer EV. Aiming to resurrect the 2010 discontinued brand, GMC's Hummer is set to make a comeback in 2022 with a twist – it's electric! The new pickup EV will offer up to 1,000hp, a range of 350 miles per charge, and 0-60 in 3 seconds. This will also be the first truck under the GMC umbrella to feature the Super Cruise hands-free technology, and we can expect to see an SUV Hummer model in the near future.
2022 Subaru BRZ. The second gen BRZ is here and it features a new 2.4 L four-cylinder engine with a bit more power. At 18% more torque and an increase in nearly 30hp, the 2022 BRZ offers better handling and improved ride quality. And, while this sports car isn't turbocharged, it is better looking with an improved design — inside and out.
2022 BMW iX. The all-new and all-electric model will be BMW's first all-electric compact SUV! The iX's two electric motors is expected to push around 500hp and claims a 0-60 in less than 5 seconds, all while offering a range of around 300 miles per charge. It's reported to be about the same size as BMW's mid-size X5 and X6 crossover models, and will feature a variety of modern, high-tech elements including a large curved touchscreen instrument panel and entertainment display.
2022 Honda CTR. The head-turning Civic Type R will offer more power and a more simplistic design for its 2022 release. Maintaining a six-speed manual-only transmission, the 11th gen CTR will feature a new, stiffer chassis, an upgraded 2.0 L turbocharged four-cylinder engine, and upgraded suspension for better handling. We're keeping our eyes peeled for more information and an official statement on specs from Honda.
2022 McLaren Artura. Information on the new mid-engine supercar from McLaren is still being kept under wraps, but what we do know is that it'll pair the brand's first twin-turb V6 with hybrid tech, all while riding on a new and improved platform. Expected to outshine its predecessor by pushing upwards of 560hp and 443 lb-ft of torque, we're also sure to see new exterior and interior designs with a variety of new features.
Whether you purchase one of these highly anticipated new cars in the years ahead or stick with your old reliable, Tint World® is here to meet all of your automotive needs. From window tint to custom wheels, car audio and the latest aftermarket accessories, we offer the products and services to make your vehicle better (and more enjoyable!). Contact your local Tint World® for more information on all the great services and products we provide.