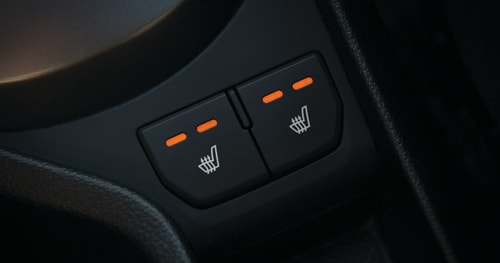 Here is the cold truth about staying comfortable in your vehicle on a winter's day: the heat may work great but sitting down on a frigid seat can still be an uncomfortable experience.
Vehicle owners don't have to take this problem sitting down, though. Consider adding a little warmth and luxury to your driving experience. Tint World® can install seat warmers as an aftermarket upgrade, keeping you comfortable from the bottom up.
Here are a few ideas about some complementary upgrades to keep your car feeling comfy whatever the season:
Crank it Up in Comfort: Don't make an extra trip out into the cold just to start your car. With a remote start system, all it takes is a click of a button or using a smartphone app, and your car will be warm and toasty inside once you get in.
Stay Cool in the Summer: Why invest in a seat warmer that you'll only use for half the year? That's why Tint World® offers seat heating and cooling packages that will keep you comfortable year-round.
Protect Yourself: Protect yourself from long-term damage from the sun's rays and keep the interior of your car warmer in the winter, and cooler in the summer with window tint.
No matter what the temperature is like outside, you deserve a comfortable driving experience and Tint World® can make that happen. Just contact your local Tint World® today to find out more!