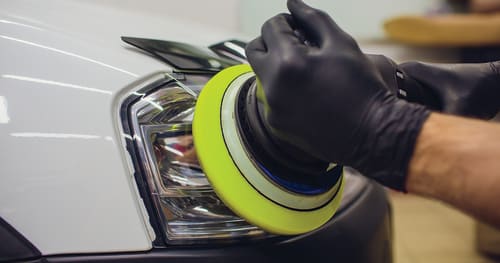 Tint World® isn't just window tint. We offer everything you need to make your vehicle look like new from the inside out. Our auto reconditioning services can repair common problems that result from wear and tear and unlucky accidents.
Here are a few of the things we can do to make your vehicle look better and repair unwanted damage:
Let's start with the interior. Over the years, little problems can start marring the look of your vehicle. It could be tears in seat fabric or problems with wear on the steering wheel. Our experienced Tint World® technicians can repair leather, vinyl, fabric, carpet, and plastic. It may seem like interior damage can't be fixed, but we're able to restore the look and feel of your vehicle's interior to like-new.
Tint World® paintless dent repair service can fix small unsightly dents and save vehicle owners the cost of repairs at a body shop. Our technicians can also touch up paint scuffs and scratches on your car's exterior without the need for an entirely new paint job. Using advanced color matching technology, the repairs will be practically invisible.
Small cracks in windshields can be repaired right at one of our locations without forcing you to replace the whole thing. Oftentimes, the repair can be done as quickly as a few hours depending on the severity of the repair.
The hubcaps, wheels and rims on your vehicle can take a beating. Our wheel repair technicians can repair cosmetic damage and make sure your wheels are shining like new again.
Headlights become fogged and discolored over the years. Our technicians can return them to like-new condition and protect them from further UV damage.
For more information on Tint World® auto reconditioning services, contact your local Tint World® location today.