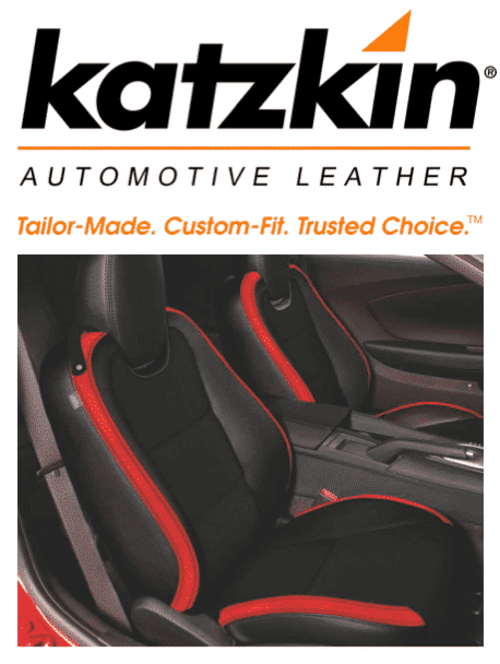 SUMMARY: Synergy Brings New Opportunities Nationwide for Vehicle Personalization at Tint World® Automotive Styling Centers™.

MONTEBELLO, Calif., March 19, 2014 / PRNewswire — Global automotive leather leader Katzkin and Tint World®, the foremost window tinting and aftermarket automotive styling center™ franchise, have joined forces to create a new powerhouse for total vehicle transformation. Together, Katzkin and Tint World® bring more than 60 years of quality and well-earned reputation to the retail world. This partnership creates a full-service, one-stop approach to vehicle personalization that includes a complete cloth to leather interior transformation within a 24-hour installation timeframe. Katzkin will be available in 38 Tint World® franchises throughout the country with an expected expansion into 50 Tint World® franchises in the U.S then moving into their International operations by 2014 year end. The alliance opens a new channel for consumers to upgrade their vehicles with the affordable luxury of a new leather interior, while further customizing their ride through other interior and exterior enhancements at the same time and same facility.

"There's an enormous synergy between our two brands," said Brooks Mayberry, CEO for Katzkin. "Beyond our reputation for service and quality, we've based our differentiation within the industry on establishing a new benchmark for automotive leather design. Katzkin offers an average of eight unique leather design options for each vehicle, giving the consumer choices that enable vehicle personalization," said Mayberry. "Tint World® has a stellar reputation for providing its customers every additional aspect of personalization, both inside and out, and we're anxious to be part of that solution."

Katzkin will be providing a state-of-the-art kiosk within each franchise store — an industry first that provides a physical touch and feel leather sample as well as immediate access to the company's "VIS" vehicle interior selector, with more than 500 pre-designs for over 1,000 vehicle patterns, with the option of Heated & "now Cooling" seats. An initial soft roll-out will begin throughout Tint World® stores in late April, including point-of-sale materials and detailed ordering information.

According to Paul Pirro, Vice President of Dealer Operations for Tint World®, both organizations provide quality and a distinctive reputation that goes well beyond industry standards. "Katzkin has long been regarded for its OEM and dealership work, and by teaming with Tint World®, we can together open the doors to a burgeoning enthusiast audience that wants to create its own personalized ride experience." With headquarters in Florida, the company began 32 years ago as a window tinting company and has grown into a full-service Automotive Styling Service Center. Tint World® has a majority of franchises east of the Rockies with additional outlets in California and Texas. The company is currently building new stores in Canada, Saudi Arabia, Abu Dhabi, and Dubai.

About Katzkin Leather, Inc.
Founded in 1983, Katzkin Leather, Inc., of Montebello, California is the leading manufacturer of custom leather interiors. With a nationwide installer base featuring over 2,500 restyling locations, Katzkin has created nearly two million exciting vehicle interiors in the past 30 years. Katzkin maintains more than 3,000 interior patterns, 135 colors and materials, and more custom options than any other interior manufacturer. For more information, visit Katzkin online at www.katzkin.com/partners.

About Tint World®
Established in Fort Lauderdale, Florida, Tint World® Automotive Styling Centers™ is America's largest and fastest growing window tinting and automotive accessory franchise; providing a wide variety of specialty auto security, mobile electronics, performance products, custom wheels and tires packages, auto detailing, and reconditioning services. Tint World® is also the leading franchised provider of automotive, residential, commercial, and marine window tinting and security film services in the US. – Learn more at www.tintworld.com.

Contact: Deb Pollack, for Katzkin Leather, Inc.
(t) 805-320-9248 (e) deb@debpollack.com
SOURCE Katzkin Leather, Inc.