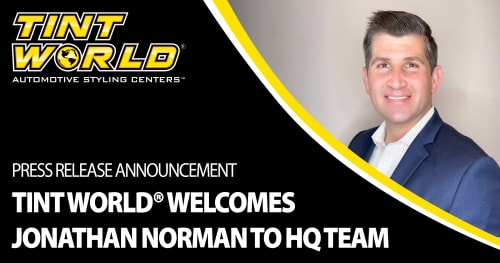 Proven executive brings 20 years of experience in franchising and finance to support the National Automotive Styling Centers™ and its commitment to growth
Tint World® Automotive Styling Centers™, a leading window tinting and automotive accessory franchise, has named Jonathan Norman, an experienced franchise development executive, the company's Chief Investment Officer.
In his new role, Norman leads Tint World®'s investment ecosystem, focused on multiple growth opportunities, and oversight of the company's future financial health.
"Jonathan has a demonstrated track record of driving growth, and his critical financial expertise supports Tint World®'s strategy for ongoing success," said Charles J. Bonfiglio, CEO and president of Tint World®. "As one of the largest and fastest-growing international automotive franchises, we're committed to building the best team in the industry. Jonathan brings unique passion and business insights to the Tint World® family, and he's proven to be an essential part of the team as we continue to expand and deliver outstanding results."
Norman has 20 years of experience in investment structuring, business operations, and development. He served as a franchisee for industry class leading systems and was a member of multiple franchise advisory councils. He earned a BBA in marketing and management from the University of Miami (FL) and received a Specialization Certification in Finance, Accounting, and Alternative Investments from Harvard Business School.
"This is an amazing opportunity to be part of one of the most effective franchise teams anywhere," Norman said. "Tint World® offers a blueprint for success in this industry, and I'm proud that my skills and experience are helping the company continue to perform to the highest standards."
Tint World® Automotive Styling Centers™ offer sales and installation of auto accessories, mobile electronics, audio video equipment, security systems, custom wheels and tire packages, window tinting, vehicle wraps, paint protection films, detailing services, nano ceramic coatings, maintenance and repair services, and more. Tint World® is also the leading provider of residential, commercial and marine computerized window tinting and security film services with locations throughout the U.S. and abroad, with franchise opportunities available worldwide.
About Tint World®
Founded in 1982, Tint World® Automotive Styling Centers™ is America's largest and fastest-growing automotive accessories and window tinting international franchise, specializing in window tinting, protective films, vehicle wraps, audio and electronics, security systems, car and truck accessories, wheels and tires, detailing and ceramic coating, and installation services.
Tint World® Mobile Services™ include marine, residential, and commercial window tinting films, solar films, decorative films, safety and security films, and protective ceramic coatings. Tint World® has locations in the United States, Canada, Saudi Arabia, and the United Arab Emirates, with master franchise opportunities available worldwide. To find out more, please visit www.TintWorld.com or  https://www.tintworld.com/franchise-opportunities.
###
Tint World® Contact:
Charles J. Bonfiglio, CEO
(800) 767-8468
Charles.Bonfiglio@tintworld.com
MEDIA CONTACT:
Heather Ripley
Ripley PR
(865) 977-1973
hripley@ripleypr.com