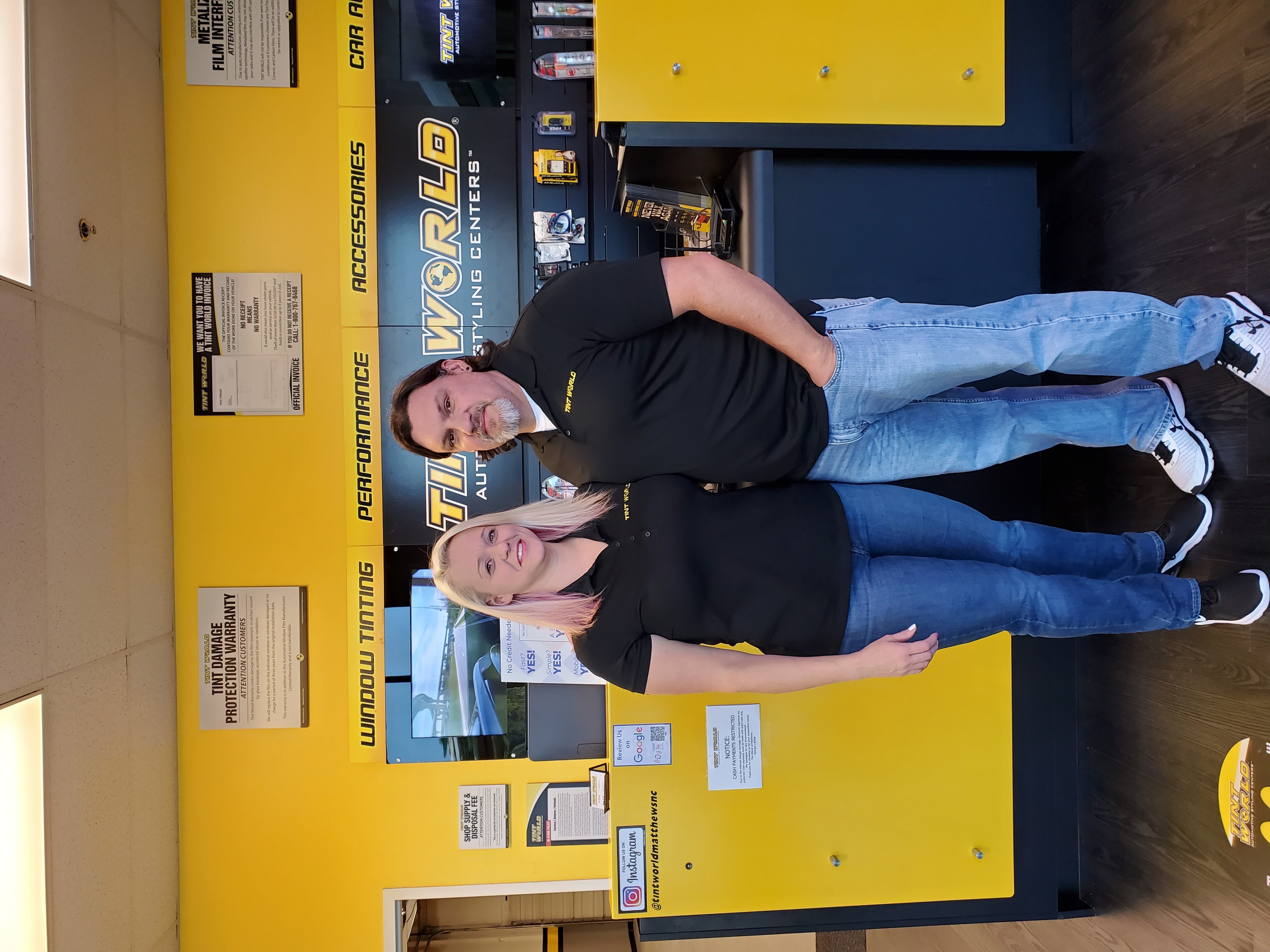 Roy & Erica Morelock are owners of the new Tint World® Charlotte-Matthews, North Carolina, location. We talked with them to learn about their experiences as new automotive franchise location owners and their plans for future growth.
Question: How did you become Tint World® location owners?
Erica: We owned a previous business, sold it, and were looking for something new that we could enjoy and that could, honestly, just carry us through to retirement — something that we could put in place and operate and work but also be mobile if needed. Tint World® actually kind of found us. I think Roy was on Facebook searching, and a Tint World® ad popped up. Then he clicked on it and that kind of led us down this path.
Q: What was your work experience before joining Tint World®?
Roy: It wasn't in automotive. I spent 20 years in professional turf care and have been a business owner since I was 23. So, I've really not been in the workforce at all. I've always been in business for myself. I owned nine (lawn care) franchises, and it was just natural once we sold the previous business that we look for a new investment and a new opportunity and that's how we found Tint World®. I guess you could say the grass was actually greener this time! (laughs)
Q: What went into your decision-making process to become Tint World® location owners?
Roy: It was actually kind of short. We flew down to their Franchise Headquarters in Boca Raton for what they called a "Discovery Day". Anthony Foley, Director of Franchise Development, picked us up and took us to a nearby location down in South Florida. After meeting with COO Jeff Stark and CEO Charles Bonfiglio, we got excited about the business opportunity and we were ready to get started that day.
Q: Were there any people at Tint World® that particularly inspired you to join the franchise?
Roy: That would be Charles and Jeff. They are very intelligent men. They know what they're doing, and it's based on their personal experience, which meant a lot to us.
Erica: Charles has a history in franchising. Roy and I could also see that as a former franchise owner, Charles had taken the things that he loved from that franchise, and the things that he didn't like and wanted to correct, and built a better franchise model with Tint World®. We could see the passion that he has, and that appealed to us.
Q: Do you have a particular specialty or favorite Tint World® service?
Roy: (Laughs) Vehicle detailing for sure! It's amazing when we can provide that "before-and-after" experience for our customers. We've had some vehicles dropped off that were in pretty rough shape, but we make sure we put the detail in detailing for everything we work on. When the customer comes back for a pick-up, and we get to see the look of excitement on their faces…that's what really makes our day.
Erica: For me, personally, I like to see what I would call the project cars come in and multiple different things done. Maybe like a Jeep that comes in for a lift kit and new wheels and tires. I like to see a car go from plain-Jane to something special that the customer enjoys.
Q: What kind of car do you own currently?
Erica: I personally drive a Chevy Equinox. Roy has a Chevy Silverado.
Q: What is your favorite car that you don't own?
Roy: I'm a big fan of the ZL1 Camaro. That's probably the next one I'll buy.
Q: What challenges have you faced as a Tint World® location owner?
Roy: Well, we've been on an adventure, for sure! We bought a franchise location in 2018, and it originally opened in Kingsport, Tennessee. It did OK when we first opened our doors, but just as we as we began to gain momentum ramping up our sales numbers, a major shopping center in the area closed down. Given the small community we were in, this had a negative impact on the local job market and the area began to struggle. This, combined with a small fire we had in our building, prompted us to reach out to Tint World® Headquarters for assistance to relocate to North Carolina in December 2019. Looking back on everything, we're proud to have been able to overcome these obstacles with the help and support from the team at Tint World® Headquarters.
Q: What advice would you give a new Tint World® location owner?
Roy: Hire the right people the first time! Build a team that you can depend on. In any service business, it can be a challenge to find the right staff – but when you find someone, treat them well and incentivize them to exceed any goals you set.
Tint World® has a great business model. They'll prepare you with lots of "New Owner Training" in the classroom and also by working firsthand at other stores. By sticking with what we learned in training, working with our skilled staff, and relying on our own experience, we've been able to grow into successful business owners!
Q: Do you have plans for growth in the future?
Roy: We're looking at becoming multi-store owners. Right now, we're in a big market and our store is performing well. We're getting it up and established, and we see future growth as owning multiple locations within the Tint World® family.
If you would like to learn more about Tint World® franchise opportunities, download our franchise kit today!