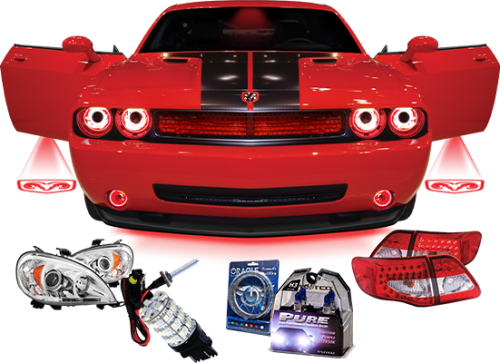 Just because it's dark outside doesn't mean your vehicle can't stand out from the crowd. Lighting is an often-overlooked way to customize and enhance your vehicle's appearance. Here are three trendy upgrades for your lighting to let your style shine:
Interior LED lighting
Take your style to the next level and enhance your vehicle's functionality at the same time! Interior LED lights are available in a range of colors so you can set an ambient mood that matches the interior. Opt for a multi-colored set you can control with your smartphone and put on a real show when you program the lights to react to your music. You can even freeze on a favorite color to lock in a vibe!
Interior LED lights offer more than just a "wow" factor. Adding additional lighting in your vehicle cabin also adds safety and functionality. LEDs can illuminate important features in your passenger area. Passengers will be able to find those cupholders in the dark and getting in and out of the car at night will be easier, too.
Halo headlights
Originally designed by BMW, halo headlights are a great way to sharpen up the look of your vehicle's front end. Sometimes referred to as angel eyes or "corona rings", this distinctive headlight design offers a way to add some fun and personality. A smartphone app can control LED halo rings to change color on demand.
Halo headlights are independent of the main headlamps, so you can use them as running lamps during daylight hours, increasing the visibility of your vehicle to other drivers.
HID lighting kits
Hi-intensity discharge (HID) lamps make for the brightest headlight you can buy. HIDs are three times more luminous than halogen lamps. They are also brighter and offer a wider field of vision than LED headlights. Not only are HID headlamps brighter than halogen or LED lights, but they also last up to 10 times longer, too. These incredibly efficient, bright-white headlights are an excellent enhancement for drivers who are frequently on the road at night. HID lighting is a great way to add to your vehicle's look while enhancing your level of safety – especially at night! Be seen, see further, and drive safer with HID lighting kits from Tint World!
Want to upgrade your vehicle's lighting situation? Contact us today to make an appointment.