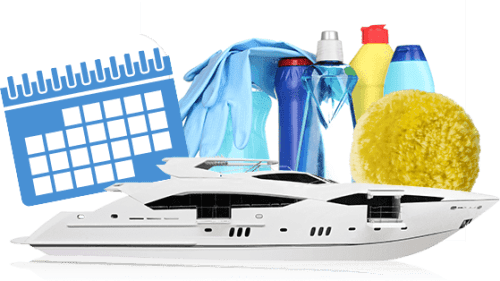 Who doesn't love spending time on the water? A weekend spent relaxing to the rhythm of the wind and waves is the perfect recipe for unwinding and letting one's cares disappear. But when your boat isn't in tip-top shape, a relaxing weekend can turn into a litany of chores. Nothing is relaxing about that.
You love your boat. So of course, you want to keep it looking spiffy – which includes keeping the cabin clean and comfortable, too. But – let's face it, though, keeping up with all of the detailing maintenance can interfere with the time you spend enjoying your boat. This is where Tint World® can help!
Most of us are pretty familiar with auto detailing. You may even already have a standing appointment at Tint World® to have your vehicle detailed regularly. But did you know that you can have your boat deep cleaned and professionally detailed as well?
Tint World® offers a variety of marine detailing services to fit every need and every budget. Whether your vessel is a small cruiser or a yacht, we have a package that will suit your needs. We provide a complete suite of exterior detailing services, including hand wash and wax, to keep your boat looking its best. We also offer complete interior detailing. We can dust, polish, vacuum, and scrub your entire below-deck space to make sure it's always guest-ready, clean, and comfortable.
We have monthly and weekly packages, too. That means you can rest knowing that your boat will be ready for you whenever you feel like unwinding on the water.
Tint World® also offers professional restoration services. Whether it's cracked leather, torn vinyl, or weather damage and corrosion, we have the expertise and the tools to restore your craft to its former glory. So, if you have a vessel that's looking a little worse for the wear, our team of professional technicians can get your boat back to shining on the water.
Contact us today and set up your marine detailing service so you can get back to unwinding and smooth sailing!