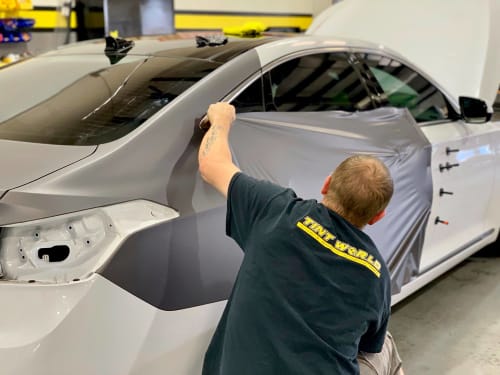 Your fleet of commercial vehicles may be one of your biggest, yet most under-utilized, advertising platforms. Tint World® can help you turn those work vehicles into mobile billboards for your brand. Our full-color vehicle wraps and variety of custom vinyl graphics can transform your fleet to optimally promote your business.
Our highly skilled graphics designers are professionally trained to create and install custom graphics of all sizes and specifications. If a full-vehicle wrap isn't your thing, we also offer partial wraps, as well as custom cut vinyl lettering to add a more subtle touch of branding to your fleet.
If you're looking to go all out, we provide full vehicle wraps that seamlessly brand your fleet — even the windows! Our perforated window wraps provide one-way vision so your drivers and passengers can always see out. But, from the outsider's view, the entire vehicle is covered with your business's image while also providing some privacy. It's a fantastic way to promote awareness of your brand whenever your fleet is on the road – think of it like a moving billboard on wheels!
Tint World's® graphics technicians create your custom designs in-house with all the knowledge and tools needed, so you always get exactly what you need to share your company's message across the world.
Not only do custom vehicle wraps help you get your brand noticed, but they also help protect your investment in your fleet of company vehicles. Our custom vehicle wraps protect your vehicles' factory paint finish, keeping your fleet looking newer for a longer time. With protection from UV damage and minor nicks, scratches, and dings, vehicle wraps are a smart and efficient way to get the most life out of your company fleet and increase the resale value of each vehicle when it comes time to replace them.
If you're ready to turn your company fleet into a rolling advertising powerhouse and protect your investment in the process, don't wait! Reach out to your local Tint World® today to get a free quote.