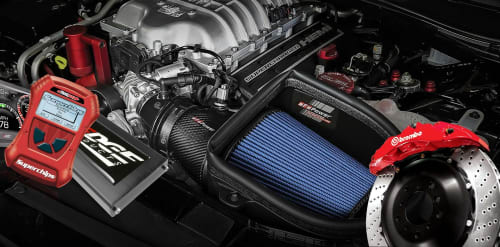 If there's one thing that's true about vehicle enthusiasts, it's that we're always looking for more power and better performance. At Tint World®, we're passionate about performance and getting the most out of your vehicle. That's why we carry over 2,300 of the most popular performance upgrades available today. And, if it's not in the store, we have a warehouse chock full of performance parts – so you can always find the right part you need to turn up your vehicle's performance!
Tint World® can give your car or truck a custom performance upgrade based on whatever your need or preference is. From basic tune-ups to custom competition packages, we can achieve whatever goal you have in mind! We help you at every step of the way, from design to part selection and, of course, installation. Our staff of highly-trained, industry-certified technicians, know exactly what it takes to bring your vehicle to the next level.
Our full range of products also includes performance chips to take full advantage of your vehicle's performance potential. By reprogramming your vehicle's onboard computer, you can achieve power gains and fuels economy that the stock factory settings don't provide.
If you're looking for more of a "Fast and Furious" effect, we have the upgrades you need to get the biggest power boost possible for your vehicle. Plus, air intake kits and custom exhaust systems can give you a nice horsepower boost, too! For expert-level handling upgrades, we have you covered with custom suspension kits that give you the performance edge you need to hug the corners and outmaneuver the competition.
When you come to Tint World® for a performance upgrade, you get white glove service, years of experience, and the benefit of our technical expertise. Our performance upgrades provide unparalleled performance, upgraded style, a unique look, and the peace of mind that comes from having a nationwide limited warranty on every service.
Get in touch today to begin your performance upgrade journey!