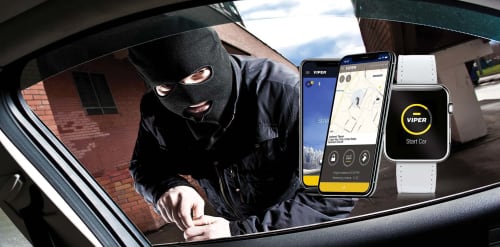 No one wants to think about it, but vehicle theft happens. Whether it's a smash-and-grab for a car stereo or grand theft auto, you'll want to protect your vehicle from any kind of theft. Get peace of mind and protect your investment with a state-of-the-art alarm system from Tint World®.
When it comes to car alarms – we're the security specialists. Offering equipment from the industry's leading brands, our technicians are able to install custom security systems for every kind of need. Whether it's glass-break detection, vehicle tilt sensors, or motion-activated cameras, we want to ensure your car's protection from every threat. We also install systems that integrate with your smartphone for the ultimate convenience and accessibility. Our inventory includes the most cutting-edge technology to keep your vehicle as secure and convenient as it can possibly be.
An alarm system doesn't only protect your vehicle – it protects you, as well. Features like flashing parking lights, panic mode, and remote start also offer peace of mind about getting to your vehicle safely. Plus as an added bonus, alarm systems can also help when negotiating lower rates with your auto insurance provider – who knew?
Vehicle security systems offer many benefits, including deterrence, convenience, and peace of mind. We offer the world's bestselling vehicle security systems with every feature you're looking for to keep your vehicle safe. Just like our alarm systems, these security systems can also integrate with your smartphone and offer details such as vehicle tracking, speed alerts, and other features that assist in preventing theft or recovering your vehicle in the unfortunate event that it is ever stolen or lost.
We've been the experts in installing vehicle security and start systems since 1982. You can rest assured knowing that we have the skills and experience to get the job done in a way that will exceed your expectations. With many of our technicians as Mobile Electronics Certified Professionals (MPEC), we're always up to date on the latest technology, installation, and specifications for vehicles of every make and model.
Ready to make your vehicle safer? Get a hold of us today to find out how we can upgrade your vehicles security.