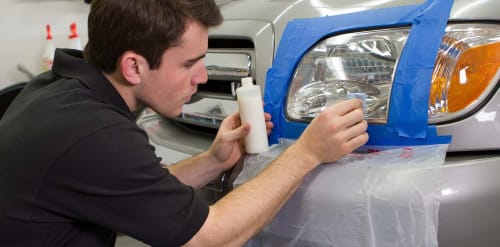 Is your vehicle missing that brand new feeling?  Maybe there's a dent or two, some scuffs and scrapes, or your headlights are dull. Surely it has served you well over the years, but it could probably use some much-needed TLC. Not to worry – for whatever the need, our experts at Tint World® can help get your vehicle back to showroom-condition!
As the industry's leading auto reconditioning experts since 1982, we know a thing or two about high-quality cosmetic auto repairs. When you visit a Tint World® Automotive Styling Center™, you can have confidence knowing we'll use professional-grade products to clean, repair, and recondition, providing the same level of attention as of it was our very own vehicle!
Are your headlights foggy and dim? Tint World® offers headlight restoration so you can see brighter and drive safer. Even if you've got a crack or chip in your windshield, you can count on us for top-quality repair and replacement services. There's also a complete range of services we offer if your vehicle is showing some age on the inside – including faded panels, cracked leather, upholstery stains, and so much more! From exterior touch-ups and paint correction to interior repairs or upgrades – we really handle it all!
Still unsure about reconditioning?
Aside from obvious improvements to your vehicle's appearance, reconditioning can also assist with extending its longevity and improving resale/trade-in value. Have a lease? Bring your vehicle to us for reconditioning before returning and save on costly fees at the dealership!
Ready to get your vehicle back to new? Book an appointment or get a quote today!