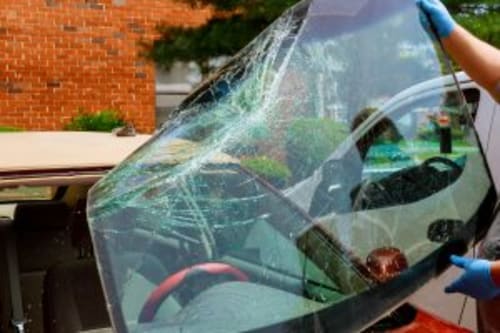 High-Tech Coatings Shield Your Glass from Damage
Do you ever worry about your vehicle's glass? Your windshield is so important, giving visibility and protection from the elements, and yet it is so fragile. The expense and potential for injury with a cracked or shattered windshield is huge.
Turns out, there is a better way. Windshield protection film from Tint World® offers a wide array of benefits aimed at making your car's glass safer and more durable. And window film installation experts will make sure your application is so smooth you'll never know it's there — until you need it. Here are some of those benefits.
No More Shatter: In case of breakage or a break-in, shards of glass to clean up are a nuisance. In case of a car accident, they are a hazard to you and your passengers. Window protection film acts as an adhesive that keeps glass shards in place if they break.
Protect Your Tech: Modern windshields aren't just glass anymore. They house electronics that make driver-assist and early-warning systems function, and those electronics make a replacement windshield pricey. Even worse, the electronics might not function correctly after a replacement windshield is installed. Windshield protection film reduces the chances that you'll need a replacement.
Keep a Clear View: Over time, dust, sand and even your own windshield wipers can abrade your windshield's glass, causing your view to get cloudy. Windshield protection film resists everyday abrasion, keeping your view crystal-clear.
Block the Sun's Rays: You wear sunscreen outside, but have you thought about what happens when you're in your car? The sun's damaging rays can reach you inside your car, causing skin to prematurely age and even causing skin cancer. Windshield film from Tint World® blocks harmful UV rays and reduces the amount of heat that enters your car.
So, if you're wondering if your car's glass is safe, consider the options available at Tint World®. Windshield protection film can be installed within one hour, custom-fitted to your windshield with adhesive strong enough to keep it in place no matter where you roam. And we back it with a five-year warranty and guarantee. For more information, contact your local Tint World® today.