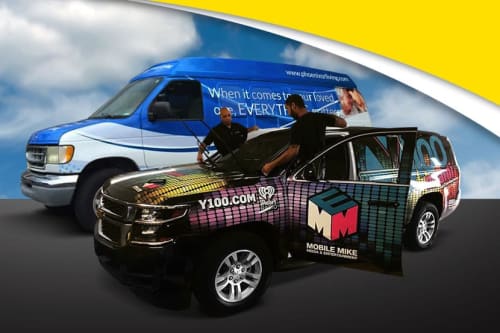 Generate company revenue, protect your investment
There is a mathematical formula, but just take our word for it: Advertising via Tint World® vehicle wraps gets results. By one estimate, a single delivery truck in an urban area can generate 16 MILLION impressions per year.
No need to quantify the obvious: This form of advertising delivers the biggest bang for your buck, and you only have to pay for it once. Tint World® has been the No. 1 wraps printing and installation center for 30 years. We can wrap your car, RV, van, truck or boat, and you can take the results – literally — to the bank.
But there's no need to use the wrap solely for advertising. It will protect your vehicle and its paint job for years, extending its life and resale value.
Here are five quick reasons you should invest in our vinyl-based vehicle wraps:
Add style and personalize your ride. If you want to change the color of your car at a fraction of the cost of a full paint job, opt for a wrap job in the color and texture of your choice.
Cost-effective advertising. We went over advertising value above, but it's worth mentioning again: Wrapped company cars generate more impressions than your company social media page can even dream of.
Protect your investment. The wraps protect your vehicle's paint job, and can be removed without damaging the factory coat.
We offer professional design services. We can bring your wildest ideas to life. You can leave the design up to us, too, or if you need inspiration we have a gallery of wrap styles to choose from.
High-quality materials. Our highly trained graphics professionals only use the latest technologies and best available materials.
Contact your nearest Tint World® today to learn more about turning your ride into a revenue-generating, rolling advertisement.