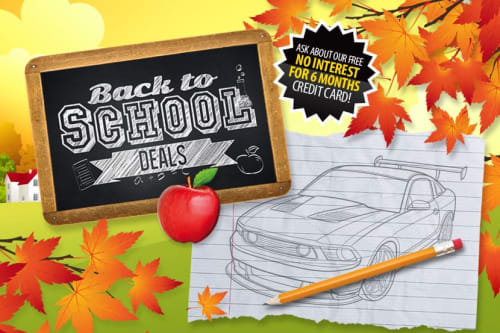 Check out these Tint World® back-to-school deals for August
Take a bite of the teacher's apple before packing the kids back to class – take advantage of our back-to-school specials for August. Hit your local Tint World® for hot summer deals on window-tinting, bed liners, paint protection, car audio and more. Jump on down today because these deals expire Aug. 13.
STRIP IT: Get a free windshield strip with the window tinting package of your choice. That $30 you save can go toward Jr.'s inevitable school fees.
PROTECT IT: Our SunTek protection film has a 10-year warranty and can keep your car's exterior in near-showroom condition. Stand out while sitting in line to drop off little Jenny.
BOOM IT: If you buy the new 55-watt, four-channel Sony high-power radio, we'll install it for free. You teach your kids and their friends the finer points of rock and rap while driving them to soccer games.
PACKAGE IT: If you buy an automotive tint package, a paint protection package and a ceramic coating package, we'll give you 10 percent off the whole shebang. Again, more savings for school fees!
SECURE IT: If your kid takes the beloved family hoopty to campus – or they received a parting gift of a new car – make sure it's secured with 10 percent off a Viper and CTP security bundle.
MAKE YOUR BED: Protect your truck's bed with a new liner. Get 15 percent off Husky and Scrubblade liners to keep your bed surface looking brand-new and worthy of pulling that float in the homecoming parade.