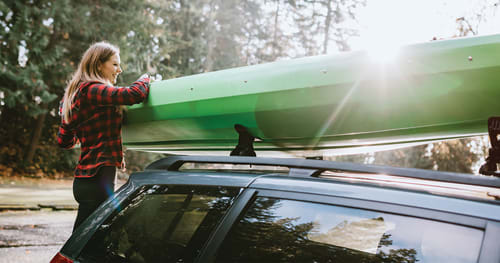 There's something special about getting out on the trail or on the water in the summertime. You might be eyeing bikes, kayaks and canoes in outdoor stores, dreaming of paddling or pedaling the day away. But before you snag those new toys, have you thought about how you'll get them from your garage to the lakes and trails? If your car or truck doesn't have one installed, you'll need an aftermarket roof rack or bike rack to haul them from place to place. You might want to consider Nano Ceramic Coating to protect your vehicle from nicks and scratches, too. At Tint World® Automotive Styling Centers, we have everything you need to get your outdoor toys to your destination and back home again. Here are some tips to consider.
What Are You Hauling?
What you want to haul will determine how you're going to haul it. Kayaks and canoes may travel better on the roof, while a tailgate solution might be easier to use for bikes. Are you wanting a solution for just one kind of outdoor equipment, or would you like the opportunity to use it for multiple loads, from watercraft to bikes to camping equipment? We recommend going with a modular system that lets you switch out accessories for different uses.
What's the Weight?
Roof racks need to be strong, but that's not necessarily the same as heavy. Your roof can only support so much weight. Make sure the combination of the equipment you want to haul and the roof rack you install don't exceed that limit. Go for lighter, durable materials like aluminum. We recommend getting a professional to determine which rack to choose for your vehicle.
What's the Profile?
Anything you put on top of your vehicle is going to have some effect on fuel economy and noise levels. But choosing gear with a lower profile can keep those impacts to a minimum. In addition, think about any low-clearance situations in your daily routine. Will the new rack clear your home garage or any public parking garage you need to access? How about the drive-through at your favorite restaurant? We know you're excited to get into nature this summer. If you want to explore your roof rack and other accessory options before you go, Tint World® Automotive Styling Centers can help! Just contact your local Tint World® to find out more.