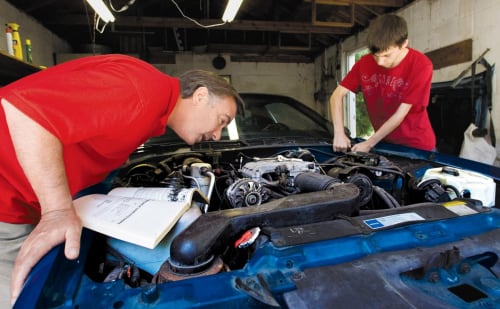 April is National Car Care Month, which gives drivers across the country an incentive to have their vehicle inspected in preparation for spring and summer travels. Changes to warmer weather, crowded traffic to the beach, and even seasonal storms are all good reasons why car owners will want their automobiles in peak condition for the next couple of months. Tint World is here to take you and your vehicle out of its winter blues and get rejuvenated for the inevitable sun and shine. This might be one of the few times in the year your vehicle will probably get this much attention, so make it count.

National Car Care Month is all about vehicle maintenance—ranging from both technical to aesthetic car care. From hoses and belts, fluid levels, tires, wipers, battery, and more, now is the time to get these components checked—if you're not too car savvy, make sure to let a professional mechanic pick and poke around your vehicle to ensure everything is in working order. That covers the technical; Tint World has the aesthetics handled.

Not only does routine vehicle maintenance increase the chances that your vehicle keeps working, but it also improves safety, dependability, and longevity. With proper car maintenance and a few upgrades here and there (from Tint World), you and your vehicle will be ready to take on what's down the road for the rest of the year.

As many take this time of the year to do some spring cleaning around the house, take your vehicle to Tint World for its own kind of restoration overhaul. From inside to out, Tint World's detailing services is just the solution to bring your vehicle back to life after the winter season. Diligent vacuuming with a layer of leather conditioner to finish off the interior combined with a rinse and a fresh coat of wax on the exterior, your vehicle will be leaving Tint World spotless with a like-new feel to it.

And if it happens that during the detail, we notice there's some damage (that no polisher can ever take out) like dents on the bumper, fabric tears on seats, or scratches on a wheel, we're more than happy to offer our Auto Reconditioning services. Let Tint World recondition these components of your vehicle rather than deal with costly replacements. Getting these small damaged areas refinished will also help maintain the value of the vehicle in the long run.

We've definitely said it before but we can't say it enough, window tinting is one of the best investments for your vehicle. This relatively inexpensive add-on not only instantly adds a cool, sleek look to your vehicle, but it also has other benefits you may have not been aware of. One big advantage of having your windows tinted is the protection it provides to you and the interior of your vehicle. With specialized window film guarding against harmful UV rays, car interiors are less likely to fade and dull out, keeping fabrics and leathers lush and vibrant.

Check out all of Tint World's automotive styling services here and give your vehicle the attention it deserves this month.