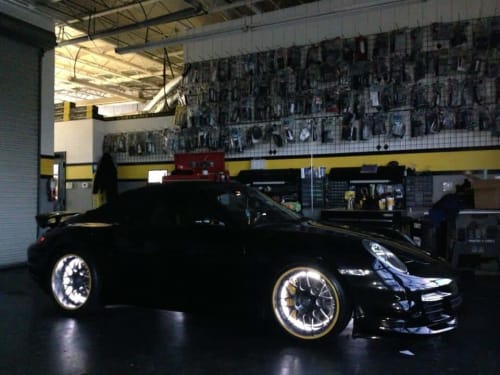 You decorate your house, landscape the front yard, and even transformed that old dingy garage into a modern day man cave—how about your vehicle? You'll have spent weeks, maybe even months or years in your car over a lifetime, take the opportunity to make it your own. Luckily, everything you need to customize and accessorize your vehicle inside and out is available at Tint World®. We do more than just tint windows and detail cars, Tint World® is the one-stop-shop for everything auto appearance and styling.

That's not to say that window tinting isn't a good start to customizing your ride. Not only does window tint film protect you and your vehicle's interior from harmful UV rays, it instantly adds a cool, sleek look to your vehicle. Tint World also offers custom tint design services in case you wanted to add some cool flare to your windows.

Are you a fan of cool gadgets and toys for your house? Equip your vehicle with the hottest audio/video products and latest mobile electronics. Connect your smartphone to your vehicle via Bluetooth and access your own personal library of music and video, all within your vehicle. Tint World carries products from top brand manufacturers like Sony, JVC, Kenwood, SIRIUS Satellite Radio, K40, and more.

If your car is in need of a complete makeover, consider installing vehicle graphics, which can turn any vehicle into something totally different. Popular finishes like chrome and matte are all the rage right now, how do you think your vehicle would look with a mirror finish? Ok, so maybe that's a bit too extreme, but here's your chance to really make your vehicle your own. Tint World® graphics technicians are professionally trained and equipped to design and install all types of vehicle wraps and car graphics.

Tint World® also offers a range of auto accessories, both for your interior and exterior. Lighting accessories will have your vehicle standing out during the nights—LED halo lights add just the right touch of cool to any vehicle or opt for LED underglow lights and you'll really light up the streets. As for the interior, from seats, to dash kits, shift knobs, floor mats, and even pedal pads, Tint World® provides you options to create the interior you'll be most comfortable in.

When it comes to your wheels and rims, Tint World® offers both replacement and refurbishment services. For a brand new set of rims that can take your wheels from standard to special, check out Tint World®'s complete line of top brand wheels. You choose them, and we can install them for you. But, for those on a budget and still want to make a rim upgrade, Tint World®'s Wheel and Rim Repair services is just the solution. We'll take out the dings, dents, and scratches first and then re-paint them for a brand new look. Let us know of any special requests—different or finishes—and

At Tint World®, you can do more than just customize your ride; you can really make it your own.