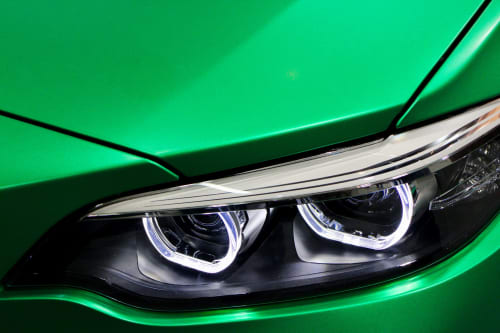 Over time, your vehicle's headlights and taillights can lose their luster. Sprinklers are also notorious for leaving behind mineral deposits that can dull the plastic casing, resulting in discoloration and reduced road visibility.
Your vehicle's lights provide more than just the ability to "see" or overall aesthetics. It's also about being seen and seeing further, reducing safety while you're on the road. This is an even bigger issue while driving at dusk, after dark, or in rainy conditions.
If you notice your car, truck, or SUV's lights have faded, it's not necessarily time to buy a new set of headlights. Tint World® headlight restoration service restores the original equipment light assembly back to new so your vehicle looks and operates just like the day it rolled off the assembly line.
There's more good news. If you want to head off the effects of age and exposure on your headlights, Tint World® offers the best headlight protection film you can find. Available in clear, smoke, blue, green, red, and yellow, it's a great way to enhance style and protection for your vehicle's headlights, taillights, fog lights, sport lights, and side marker lights.
Tint World®'s headlight restoration service is one of the many industry-leading car detailing services we offer, including:
Scratch and swirl removal: We'll wash, clay, and buff your vehicle's exterior paint with our correction compound and then apply crystal polish to seal the paint and provide a deep, glossy look.
Oxidized paint restoration: A multi-step process that restores the deep shine and showroom finish you fell in love with.
Interior spot and stain removal: We'll clean the seats, carpets, mats, doors, dash, console, and headliners with a specially formulated stain removal technique that cleans and protects your interior.
Odor and mildew eliminator: Our state-of-the-art highly specialized products eliminate interior odor from mildew, tobacco, food and milk spills, mold, urine, fire damage, and pet deposits.
Tint World® auto detailing services utilize advanced technology and specially formulated protection products that protect both the interior and exterior of today's automotive finishes, and our no-nonsense warranty for all car detailing services offers peace of mind for years to come. Visit the nearest Tint World® location to find out more.