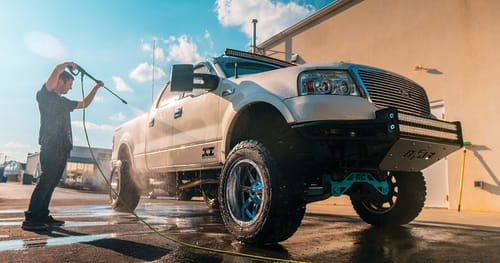 All vehicles suffer from wear and tear as time passes by. Whether it's exterior damage from harsh terrain and weather or a faded interior from the sun, a car's value will decrease with each passing day.
Help maintain your vehicle's value by visiting a Tint World® near you. Tint World's auto detailing services can help car owners prevent and correct any issues that may negatively impact its appearance and value. We use our Tint World® line of top-quality detailing products and offer additional maintenance products for purchase and use in between details.
Received gravel damage to the front end of your vehicle? Tint World® auto detailing technicians are trained and equipped with the best tools, equipment and supplies to keep your car looking new; and these services can often be completed in less than two hours.
Tint World® also offers more than the common detailing services, such as odor and stain removal, paint swirl removal, oxidation removal, paint protection, and spot and stain removal. We place our focus on both the exterior and interior of the car with extreme attention to detail.
Auto detailing services come in four packages: economy, premium, supreme and ultimate with varying prices. Check out your local Tint World® for detailing services and pricing.