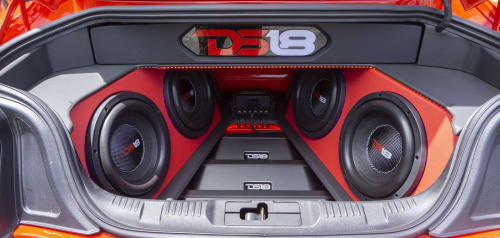 When it comes to custom audio systems, setups can vary based on various factors – like personal taste in music or the available space to work within. Some customers want to feel like they're in the front row of a concert, while others want to turn heads at their local car show. Whatever the situation, Tint World® has what you need to upgrade your vehicle's sound system.
Do you want to build a custom setup that is unique to your vehicle while also matching your personality? We have the most popular and technologically advanced car video and audio systems in the industry. Tint World® also has all the top brands to enhance your car audio experience and ensure your setup is one-of-a-kind.
Featuring technicians who are MECP (Mobile Electronics Certified Professionals) certified, they always stay up to date with the latest installation technology and equipment. At Tint World®, we ensure every custom audio system provides high-quality sound, with a clean installation that will be music to your ears.
Tint World® also offers quality upgrades for any budget. With a variety of car speakers, tweeters, amplifiers and subwoofers, we can help you create the system that's right for you. This includes features for SiriusXM satellite radio, as well as Bluetooth and iPod control docs that are Apple Car Play and Android Auto compatible, helping you drive safer and reducing distractions.
If you're ready to build that perfect audio system, make your way down to the nearest Tint World®, the nation's leading automotive franchise.