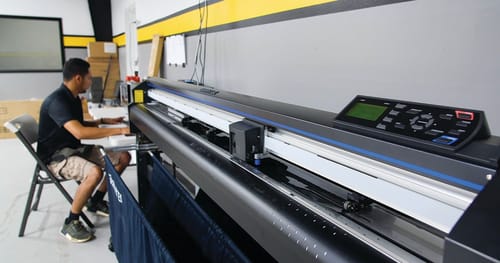 Nothing says cool like cruising down the highway with tinted windows, but window tint offers more than a way to personalize your vehicle. It can also provide protection against UV rays and heat rejection during warmer months, insulate your vehicle during colder months for quicker warm up, and offer privacy.
Regardless of the reason, Tint World® offers high-quality window film and professional installation by trained experts. We have been the leading installer of window tint since 1982.
Tint World® installers use state-of-the-art equipment with pro-cut software. Using a technology-based 100% precision-cut system, our installers are able to tint your windows fast and with complete accuracy. This means no hand-cut guess work and a perfect fit every time.
Looking for something custom? Tint World® can help with that, too. We have a complete library of pre-cut tint designs, and our micro-edge film cutting technology makes applying the designs quick and flawless. Our window tint packages come in four options: Economy, Premium, Supreme and Ultimate. Each package is geared to meet your needs and budget, and includes a guaranteed nationwide warranty.
Want to request a quote or book an appointment? Find your nearest Tint World® location and let our experts take care of you.