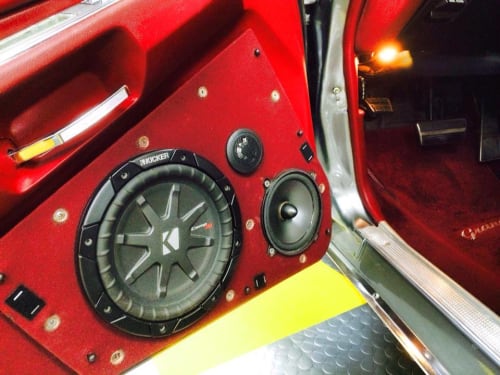 Creating your dream car has never been easier thanks to Tint World®. Tint World® offers a variety of services that entails a multitude of options for you to fully customize your vehicle to you specifications–whether your style and personal taste leans towards edgy and cool or modern and sophisticated–Tint World® will work with you and your budget in order to make your standard off the line vehicle into a full fledged dream car.

One of the easiest customization options you can add to your vehicle is window tinting. Window tinting can instantly create a cool, sleek look for any car, truck, or SUV. Along with the look it gives to your vehicle, a major benefit of window tinting is the protection it provides from harmful UV rays, which not only can damage the interior of your vehicle but can also cause damage to your skin and health (due to unchecked amounts of sun exposure). Tint World®'s window tinting is a great first option for customization, as it provides both form and function, is easy to install, and is affordable.

Customization is all about the details. Tint World® has you covered when it comes down to even the smallest details, and car fanatic or not, people who catch the smaller custom details can appreciate the work that went into your vehicle. Take lighting for example– Tint World® carries the latest HID and LED lighting for your headlights– choose the style and color that fits you best and see what a simple addition can add to the overall look of your vehicle. The same thought applies to wheel bands. If you're not quite ready for custom rims (entailing different colors and finishes) but still looking to add a bit of personal style to your wheels, then wheel bands is a great option–fast and easy installation at an inexpensive price point.

While Tint World®'s vehicle wrap services can offer a complete overhauled look to your vehicle (custom graphics ranging from partial to full, and custom finishes such as today's popular matte look) other Tint World® services such as paint protection film or even alarm and security system installations are available that provide a customized protective function rather than style.

But perhaps, the most fun custom options lie within your vehicle– your audio and video system. Tint World® carries the hottest audio and video products from top brands you know and love. Expert Tint World® audio and video consultants will help you choose from a wide selection of products–items that can be seamlessly integrating with your vehicle. Create the sounds system you've always wanted, or go even further and build the on-the-go entertainment system you never knew you wanted.

Call or visit your local Tint World® today to learn more about all the custom options we have to offer.