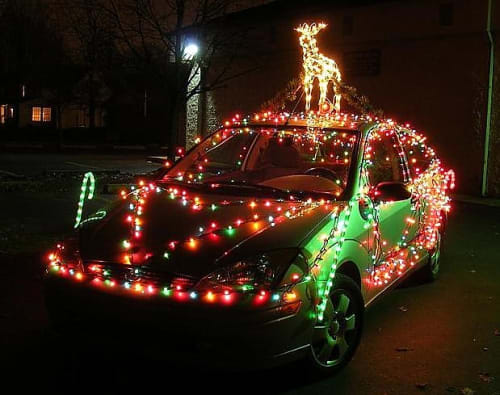 In addition to decking your halls with boughs of holly, don't forget to deck out your ride for the holiday season too! Keep the holiday cheer going, even inside your vehicle. How? Tint World® carries the latest products and offers a variety of professional services to help you transform your car into a vehicle that'll make Santa want to trade you his sleigh.

Give your car a gift by bringing it into Tint World®. A complete automotive detail from Tint World® is the perfect thing to rejuvenate your vehicle before heading out to all your holiday parties. With all of the moisture brought into your vehicle from the past couple of weeks because of rain, wet clothing or shoes, get the interior looking, smelling, and even feeling fresh with an interior detail. A good wash and a fresh coat of wax on the exterior will make your ride look sleek and clean until the New Year. But don't stop there, Tint World® is offering any automotive window tint package at a discounted price. No matter what the season, window tint never goes out of style. After a detail and newly installed window tint, you'll feel like you're driving a new car once you leave the shop and by the end, you'll quickly realize you just gave yourself a present.

Everyone loves sitting next to the fire (roasting chestnuts, right?) to keep warm during the cold holiday season. Keep the warmth alive with a Rostra Comfortheat Seat Heaters to not only keep your body warm but as the name implies, to keep you comfortable. Blasting the heater is one thing, but installing a seat heater just makes you want to melt, in a good way.

What else will make you melt? Hot deals on top brands from Tint World®. Big name mobile electronics and audio/video products from brands like JVC, Alpine, Kenwood, Pioneer and so many more are being offered up to 70% off at Tint World®. That means you can pick up something for yourself (and get it installed at Tint World®!) and something else as a present for someone else! Everyone knows that the only thing better than receiving a gift is giving one.

And if you've had a little too much holiday cheer and need some time to yourself, sneak away and relax with some tunes that don't involve snow, sleds or reindeer with headphones from Scosche. Scosche accessories also include power cables and car adapters for your smart phones or mp3 players so you can play your favorite songs (Christmas carols or not) on the way to your holiday destination.

So if you're in the holiday spirit and feel like decking out your ride, you could easily hang a mini wreath on your rear view mirror, but why not go a step further and visit your local Tint World® to see how you can really bring peace, joy and happiness to you and your vehicle.