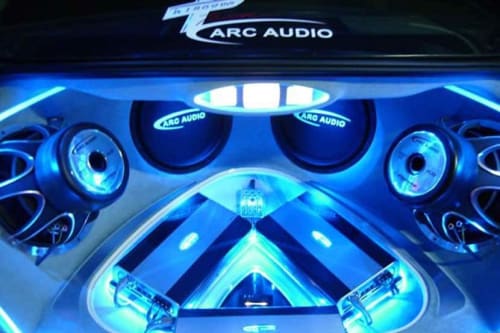 Tint World's® Pro Audio Team Has Know-How You Can Trust
Are you ready to up your vehicle's audio game? You don't have to go it alone. At Tint World®, we understand that car audio is complex, and we're here to make sure our customers get the best system for their needs, whether it's a simple aftermarket stereo or a competition-grade "thumper."
Our team of audio experts is ready to answer whatever questions you have, so before you get that party started, give us a call. Here are some car audio FAQs that we hear a lot:
Why should I upgrade? There are a lot of reasons to upgrade your car's audio. Are you looking for a better sound? More functionality? Today's aftermarket stereos have much better sound quality than factory stereos. There are also plenty of features available, including touchscreens, integrated navigation and more.
What stereo will work in my car? Tint World® experts can steer you in the right direction for the stereo that will work best with your vehicle. Purchase of an adaptor may be necessary, but we'll make sure your steering wheel controls, speakers and other accessories integrate seamlessly with your new system.
Will it work with my smartphone? Now that many smartphones are ditching their audio jacks, smart customers want to make sure their phones will work wirelessly with their new stereos. Never fear, because Tint World® has you covered there, too. Bluetooth technology, plus integrated Android Auto and Apple CarPlay are available in many of the systems we carry.
Do I need new speakers for my new stereo? While you probably won't need to upgrade from your factory speakers for your new stereo to function, aftermarket speakers will give you the best sound quality. If you want to crank the volume without worrying about crackling or distortion, get new speakers, too.
Does my car need more power? Depending on the kind of system and speakers you're installing, you may want to consider your car's electrical power before buying. Are you adding a subwoofer or other components? Are you cruising around town or tearing up the roads? Regardless, Tint World® can help you get it right.
If you have more questions about upgrading car audio (and we're sure you do), we're here to help. Contact your local Tint World® today to speak with a pro.