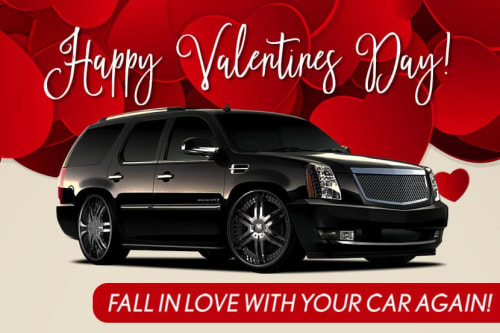 Has your car lost that lovin' feelin'? Are you just going through the motions and wondering why the thrill is gone? This Valentine's Day – skip the roses and chocolate. Rekindle that spark and give your special someone a more enjoyable driving experience with a total vehicle makeover from Tint World®.
Here are just a few of the services we offer to make cars or trucks feel like new and get the romance rolling once again.
Devilish details. Nothing restores the love of your vehicle like a professional detail. Our Tint World® detailers can make your car or truck look and smell like new again. We have a variety of packages available, so you can choose what works best for you.
Accessorize. Tint World® offers a world of aftermarket accessories that will make any vehicle feel like new again. From remote start systems to puddle lights to running boards, find the accessories that ignite your passion.
A new look. Easily change the look of your exterior and fall in love all over again with Tint World® wraps and graphics. Make your vehicle match your style while protecting the exterior from wear and tear, too.
Be more radiant (on the outside). Our UV-protective window tints and films block up to 99% of the suns cancer-causing, damaging rays. This gift will keep on giving all year long with sun protection and more interior privacy. Choose any shade to fit your style and any package to fit your pocketbook.
Tint World® products and services are the perfect way to put you back on the road to romance. Whether you're making over your own ride or your significant other's, find your local Tint World® today to find out more.