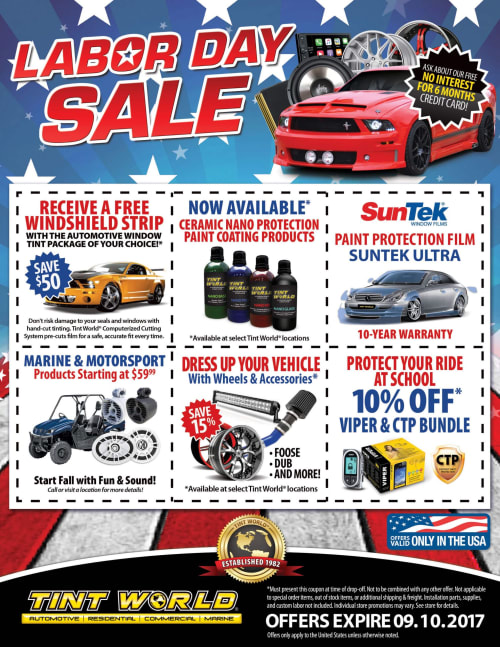 Our late-summer promos feature free strip tint and 10 percent off security systems
You work hard all year, so why not reward yourself with some of these Labor Day deals from Tint World®?
These offers expire Sept. 10, so contact your local Tint World® today to take advantage of these specials!
STRIP IT: Receive a free windshield strip valued at $50 with the purchase of the automotive tint package of your choice.
COAT IT: Late summer is a great time to try out some of our ceramic Tint World® Nano Ceramic Coatings.
FILM IT: Our SunTek Ultra paint protection film comes with a 10-year warranty!
CRANK IT: Check out our boat and motorsport audio products starting at $59.99.
DRESS IT: Save 15 percent off our Foose, Dub and other wheels, rims and accessories.
PROTECT IT: If you are going back to school this fall, or know someone special who is, get 10 percent off our Viper and CTP bundle for the best in vehicle security.