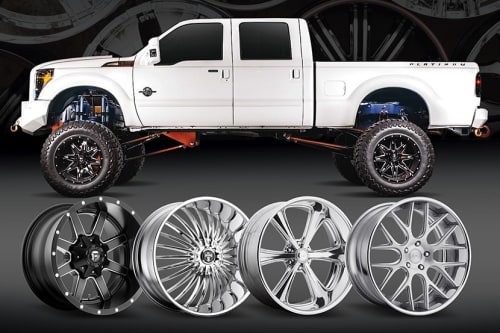 Tint World® can improve your car's appearance and performance
Rim additions or replacements are among the most popular after-market additions to vehicles of all types.
Your local Tint World® dealer carries – or can order – the hottest wheels and tires available today. From the practical (off-road tires) to the whimsical (36-inch spinners), our expert technicians will work with you to customize the fit, color, design, and size. We offer everything from racing and off-road wheels to vintage and luxury wheels.
Why rock bodacious wheels and rims? If you have to ask, you may never know, but here are four reasons to upgrade your wheels, tires or rims today:
Alloy wheels increase both the aesthetic and economic value of your car. The light-weight and enhanced aluminum, especially when compared to traditional steel, improves performance and gas mileage. The increasing popularity of the wheels increases the resale value of your vehicle.
Increasing the size of your tires can improve handling and reduce tire sway. Off-road tires have obvious benefits, but the benefits of increased street-tire sizes are more nuanced. Your car's wheel system is a carefully calculated creature, but our experts can ensure you leave our shop safely and satisfied.
If you buy a set of new rims and tires together, you can ensure optimal sizing and performance. Our technicians will ensure your rims and tires go hand-in-glove. Ordering rims and tires separately increase the chance of a mismatch, which could result in a blowout and crash.
Stylish rims are relatively more affordable than ever. Most used to be made of magnesium, which was both costly and prone to corrosion. The lower cost of alloy wheels and rims makes it easier than ever to style your ride on the after-market, any way you want.
Our experts can send you safely on your way with new rims and wheels. Contact your local Tint World® today for a free quote.