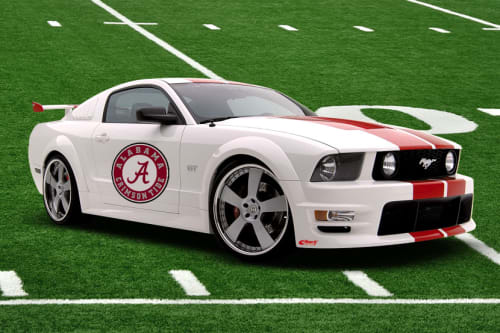 Tailgate in style this college football season
Football season is just a few weeks away, and gridiron fanatics are already getting fired up.
Tint World® can help you achieve the next level of fandom with customized vehicle graphics, wraps or lettering that reflect your favorite team.
Whether it's Tennessee orange, Alabama crimson or Florida blue, we can color your ride to reflect your passion for your alma mater or favorite team.
We can add a Power T, Buckeye leaf, Gator or Gamecock to your vehicle. We can remove it after football season – if your team had a less than stellar season.
But if you prefer a lower-key approach to celebrating your football fandom, here are five tailgate hacks    — after we've detailed your truck, naturally — to help milk the most out of the most wonderful time of the year:
BE COOL: Know how to pack your cooler. Put cans and bottles of your favorite beverage on the bottom. Make sure they are pre-chilled. Cover the bottom layer of bevies with ice, and store food in water-proof containers on top of the ice. Put any bagged items on top, and make sure the cooler is packed full to keep it's cool.
PACK IT UP: Pack all your tailgate essentials in a toolbox – spatulas, utensils, lighters, bottle openers, ketchup packs, etc. – or pack them in a lightweight plastic shelf unit.
BE SEEN: Float a helium balloon high above your tailgate station to ensure your friends can find you in the crowd.
PAT DOWN: Pre-form hamburger patties ahead of time to keep your hands from becoming a bacteria-laden mess during party time.
SHOOT IT: Make Jell-O shots in your team colors – but make sure you have a designated driver!
And don't forget, if you want to go all out and celebrate the joy of football season in style, we can make your car sing with school colors.
Contact your nearest Tint World® today for team graphic, decal and wrap services, and make this season one to remember.