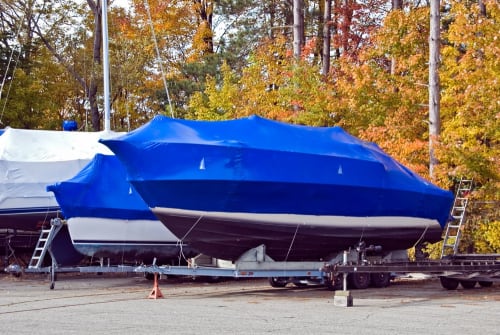 The fall equinox was last week and summertime is over. For boat owners who live in climates where the weather forces you to pull your boat from the water, it is time to get your boat ready for storage. Before you put your boat up for fall and winter, this is a great time to add new enhancements to your boat with the variety of marine services you can find at your local Tint World® location.
Think about what you wished you would have had on your boat this past summer. A new look, a new audio system, GPS navigation… what would make next summer on your boat better than ever? Before you put your boat up, learn about what these marine services and enhancements from Tint World® can do for you:
Marine GPS Systems: Being able to navigate on the water can help enhance your enjoyment of your marine time while keeping your boat and passengers safe. Our line of marine GPS systems can be easily added to any boat.  As an additional benefit, it can be used to monitor your boat while it is stored for the season.
Boat Graphics and Wraps: If your boat exterior is looking faded or you are interested in a new look for next year, Tint World® can design, print and install a wide variety of marine graphics and custom boat wraps to give your boat a new look for the fraction of the cost of repainting.
Detailing: With experienced, professional service, Tint World® can provide a suite of boat and yacht detailing services. After a long summer on the water, having your boat or yacht professional detailed and cleaned will help minimize the time you need to spend cleaning before next season. The Tint World® marine professionals can also handle the more difficult jobs, including rust stain removal, engine compartment cleaning and restoration of vinyl and leather.
Electronics: Regardless of how you use your boat, Tint World® offers a full line of brand name marine electronics and professional marine audio installations that can take your experience on the water from good to great! With satellite radio, audio bass packages, marine speakers and receivers, Tint World® can help create the perfect electronics package to make your boat boom next season.
Before you put your boat into storage for the winter, take stock of what you would like to have for the summer of '17 for your time on the water. Determine the enhancements that you would like to add to your boat, and when are ready to upgrade discover the marine services available from Tint World® and contact your local Tint World® today to see what we can do for you!