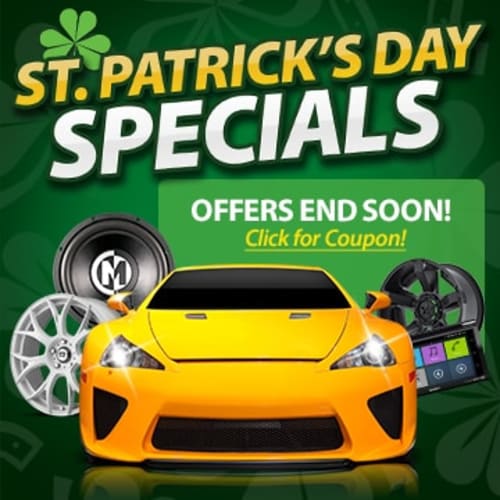 If you're tired of trying your luck with customizing your ride, it's time to check out Tint World®'s St. Patrick's Day specials. Now until March 31, we're offering great deals on automotive styling upgrades that will make your friends green with envy.
Here's what to look for during the Tint World® St. Patrick's Day Special:
Window Tint Savings! If you want a ride of envy this St. Patrick's Day, there's nothing cooler than having your vehicle professionally tinted. During our sales event, stop by your local Tint World® to get $30 off any window tint package, including our Ultimate with exclusive 2-ply Nano-Carbon XP™ Film that provides 80 percent infrared heat and 99 percent UV ray rejection.
Crystal Clear Sounds! Spring means open windows and bumping tunes, so come to Tint World® for a loaded enclosure stereo package. You'll get Memphis Audio's Street Reference 15-SR2X12 12" subs, loaded and wired in an embroidered ported enclosure, for just $349. That's a $50 savings.
Wheel protection! When your wheels are prized, the last thing you want is curb damage, road rash, and paint scratches. Wheel bands act as five mph bumpers for your rims by wrapping around the outer parameter to add an extra layer of protection. During Tint World®'s St. Patrick's Day special, our wheel bands start at just $149.99 installed.
Paint Protection! A shiny car is a car of envy, so make sure your paint and clear coat is protected properly with paint protection film. Now until March 31, you can get $100 off our standard film kit to protect your car's fenders, rear view mirrors, and hood.
Motegi Racing Wheels! Love light-weight wheels? Love Motegi Racing style? During our St. Patrick's Day special, you can get up to 10 percent off a wheel and tire package featuring Motegi Racing wheels. You pick the style, the tire and color, and we'll mount, balance and install your new style.
Free Detailing! Once you've loaded up on aftermarket wheels, wheel bands, tint, paint protection and car audio upgrades, it's time to get your ride detailed for a spotless shine. When you spend $200 at any Tint World® Automotive Styling Center™, we'll give you a free express detail that includes a hand wash & dry, interior vacuum, door jamb cleaning, and complete window cleaning.
If you're ready to go green this St. Patrick's Day, stop by your local Tint World® Automotive Styling Center™, or visit our online store, to get great deals on these exclusive upgrades.