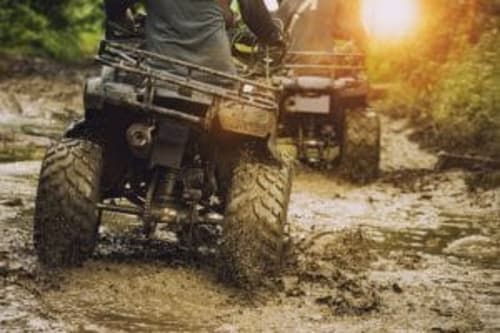 Guilt-Free Muddin' with Upgrades from Tint World®
Fall is here, and that means off-road sports, hunting season, camping and just hitting the great outdoors. Is your truck, UTV and/or ATV up to the challenge?
Going off-road is a lot of fun, but it also carries some risk. In those rough conditions, your off-road vehicle could sustain scratches, dents, glass damage and general wear and tear. That might just be the price you pay for going mudding, but Tint World® offers upgrades and services that can mitigate or prevent damage.
So, what can Tint World® do to protect your off-road vehicle from nature's worst? Here are some options.
Nano Ceramic Coating — If you think ceramic coating is just for your off-road vehicle's paint, think again. Nano Ceramic Coating from Tint World® can protect everything from the interior to the glass. It can even protect your undercarriage from rust, wear and tear.
Off-Road Wheels and Tires — You don't want to go off-road with just any tire. Tint World® has wheels and tires designed to give your truck sure footing in treacherous terrain while shaking off the elements.
Custom Lighting — Do you like to go off-road at night? Custom lighting packages from Tint World can light the way. We have special off-road lighting packages that offer bright lights durable enough to take whatever the trail has to offer.
Before you take your truck or off-road vehicle for a whirl this fall, stop by Tint World® to get ready to roll. With a few easy upgrades, we can make sure your off-road vehicle is protected and running strong for the upcoming season. Just contact your local Tint World® today for more information.