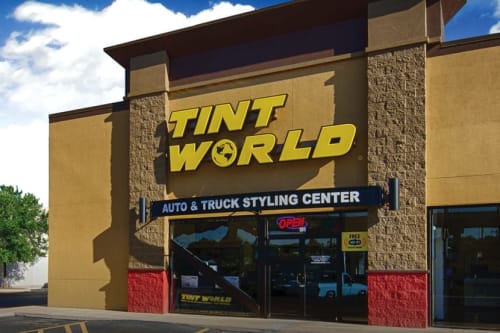 Beat Black Friday. Shop at your local Tint World instead
Black Friday, which falls this year on Nov. 24, the day after Thanksgiving, is an annual frenzy of mass-market consumerism.
Millions of people across the country, drawn by supposed deals at the behest of department stores and electronics dealers, swarm to malls and shopping centers, sometimes standing in line for hours to bag some cookie-cutter gifts. Some stores are even open on Thanksgiving and extended their weekend hours to feed the frenzy.
Hold up. You passed up football, family and mayo-saturated turkey sandwiches to go … shopping?
Forget the traffic at the malls and big-box stores. Visit your local Tint World® on Nov. 25, instead. It's Small Business Saturday, and your money will be well-spent, and stay in your community.
Here are four reasons why you should complete your holiday shopping list at Tint World® on Small Business Saturday:
Selection. From audio systems to security options, you can find a whole range of gifts at Tint World®. Wheels and rims? Check. Roof racks and tow hooks? Ditto. We can fill your needs and wants by year, make and model. If you don't see it in our store, we'll order it for you. You'll never come up short.
Traffic. Vehicular traffic can be so bad there are entire articles with suggested traffic hacks to beat local traffic around shopping centers on Black Friday. Half a Lions game can pass by the time you even get a parking spot. Traffic has eased by Small Business Saturday.
Appreciation. You won't get some sour big-box clerk with a Thanksgiving hangover. Instead, you'll be greeted and treated like a friend or family member who appreciates you keeping your dollars local. That's a hallmark of every local Tint World®.
Money. If you qualify for a TInt World® credit card, you can complete your Christmas shopping on Small Business Saturday and pay no interest for six months, providing you make the minimum monthly payments.
Skip the shopping trips this Black Friday and catch up with your weird uncle or finally get the kitchen clean for the first time in days. Enjoy another glass of wine or beer, and don't forget to pile that turkey high atop its solid mayonnaise foundation. Then create your Tint World shopping list for Small Business Saturday.
Don't send your hard-earned dollars straight to Manhattan, Arkansas or Tokyo. Keep them local, and keep your loved ones happy.