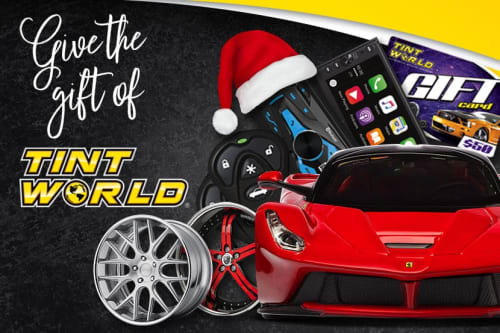 From security systems to accessories, we can make holidays merry and bright
Virtually everybody has a car, and virtually everyone likes receiving gifts.
Tint World® can bring the two together Christmas morning.
Stay tuned for our holiday promotions packages, but here are some early gift ideas to brighten the days of your favorite gearhead this holiday season:
Security. We offer a full line of professional car-alarm services, including cutting-edge glass-break detection, smartphone controls, tilt-alert systems and proximity alarms. Call (800) 767-8468 for an instant security quote.
Wheels and tires. If you know a starving college student, you know their necessities can become luxuries. Do them a solid with four new wheels and tires – and rest easier when they're navigating winter roads to return home. We can work with you or your lucky recipient to select the wheels and tires that best match their personality or need – from high-rolling urban sets to practical outdoor outfits.
Audio and video. We partner with some of the biggest names in this booming business. We can either upgrade from a relatively basic factory system or install a full-blown stereo system – complete with CD player, amplifier, speakers and subwoofers — that will rock your neighborhood.  Nothing says "I love you" like thumping bass. We can also install DVD players, monitors and extensive entertainment packages.
Rear-view cameras. It'll soon be a basic rule of the road, but all current cars don't have rear-view camera  capacity. Rear-view video displays literally give a driver eyes in the back of their heads. It's a great gift for the safety-conscious giver or receiver.
Gift cards. If our range of options and accessories are overwhelming, you can always tuck a Tint World® gift card under the tree or in a stocking. You can load them with as little or as much money as you want. The cards do not expire, and are good at any Tint World® location.
This is just a small sampling of ways to bring a little holiday joy to the loved ones in your life. Remember, it's better to give than receive – unless you receive a gift from Tint World®.
Call (800) 767-8468 for an instant quote on most items. You can also peruse our products here, or head to your nearest Tint World® location for a more personal Christmas-shopping experience.