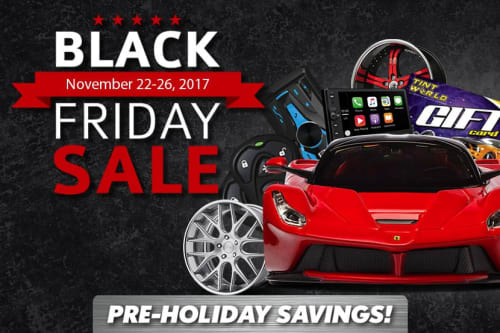 Hurry – deals expire Sunday!
Tint World® deals are too white-hot for just Black Friday. Cash in on our savings Wednesday through Sunday at your local Tint World®. These deals are just for United States locations. Put down that turkey sandwich with extra mayo and peel yourself off the couch. There's Christmas shopping to be done!
Our Black Friday deals include:
DASH CAMS: Get an extra set of eyes on the road with a single-channel full-HD DVR for $98.88 installed.
REMOTE START: Nobody likes a cold start to the day. Fire up your car before you leave the house on frosty winter mornings with our remote start. It includes two four-button remotes and a bypass module for $148.88 installed.
DIGITAL RECEIVER: Sometimes it's better to receive than give. Get a digital media receiver with Bluetooth for $28.88 (not installed).
HEADLIGHT KIT: Illuminate those dark winter roadways with a new HID headlight kit for $55.55. Installation is available for an additional charge.
GIFT CARDS: Stuff a car-lover's stocking with Tint World gift cards and pick up a little something for yourself. Get a free $25 gift card with a purchase of $100 or more, and a free $50 card with a purchase of $300 or more.
FINANCING: If you need some financing to help fill your sleigh with gifts, check out our Snap! Finance options. Zero-percent financing is available.