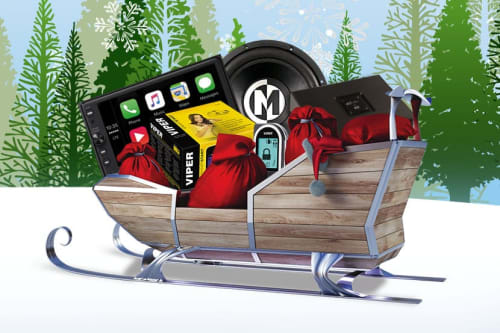 Technophile on your list? We've got you covered.
The electronics sector is one of the leading seasonal performers during the holidays. Thirty percent of all electronics are sold between Thanksgiving and Christmas.
The electronics array at your local Tint World® won't disappoint if you want to drop some tech in stockings or under the tree this Christmas. We are, after all, the No. 1 mobile electronics installer for more than 30 years.
Here's a sampling from our smorgasbord of high-tech holiday gift options for the technophile or car lover on your Christmas list:
Get Sirius (or XM): Make drive-time more enjoyable with the range of music, news and sports available via satellite radio.
Fuzz busters: We offer portable or mounted laser detectors (where legal) to help your lead-footed loved one avoid speeding tickets and legal hassles.
Navigation: Ease travel through a complicated world with a gift of an in-dash global positioning system. Many of the navigation systems we offer come with a touchscreen display and offer voice prompts.
Back it up: Most new cars will soon have to include rear-view cameras, but this excellent safety feature is a great upgrade, even for your kid's beater. We can install either a dash display or integrate rear-view camera images into your mirrors.
Night vision: Our night-vision camera options can help your elf see better at night, augmenting the power of headlights to better see through fog, smoke and dust.
Security: We offer top-of-the-line security systems, including proximity alarms, glass-break detection and tilt sensors (in case someone tries to jack your wheels or rims) that can be monitored and adjusted via smartphones.
Gauges: We can stylize and customize all manner of gauges for a great gift, including tachometers and speedometers. Life's too short for a boring control panel and traditional displays.
If you want to go the low-tech, practical gift route, we can accommodate that, too. From grilles and seat covers to bedliners and floor mats, we've got something for everyone on your shopping list – as long as they've been nice.
Call 800-767-8468 for a free electronics quote, or head to your local Tint World® today for a jumpstart on Christmas shopping. We've got what you need, from the electric to the eclectic.