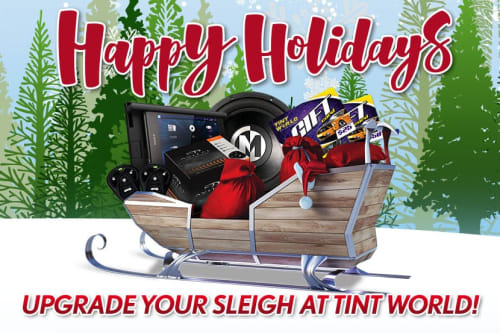 Make your Yule super-cool with these great gift ideas
It's beginning to look like Christmas, and it's high time to get down to your local Tint World® to take advantage of our great holiday specials. These deals expire Dec. 30 and are only available at our U.S. locations.
Gift cards: Get a gift card that keeps on giving. You can receive a free $25 gift card with a purchase of $100 or more, or get a free $50 gift card with a purchase of $300 or more.
Winterize: Get your ride ready for winter with our winterize safety package. For only $99.99, we'll check your battery; set your tire pressure; polish your headlight lenses; and replace your windshield wiper blades.
Remote start: Beat the winter chill with an Viper remote start system with two four-button remotes. The $249.99 remote-start system includes installation and allows you to lock and unlock doors, open your trunk and start your ignition remotely.
Audio package: Get a loaded Memphis Car Audio enclosure audio package for $399.88 installed.
3-for-30: Purchase any automotive tint package, any paint protection package or any ceramic coating package and get 30 percent off when your buy all three.
Smartphone cradle: Stream music, make hands-free calls and operate your radio and CD players with our smartphone cradle receiver. Enjoy all these functions for $97.77 (not installed).
Hurry on down to your local Tint World® to take advantage of these hot holiday deals today!