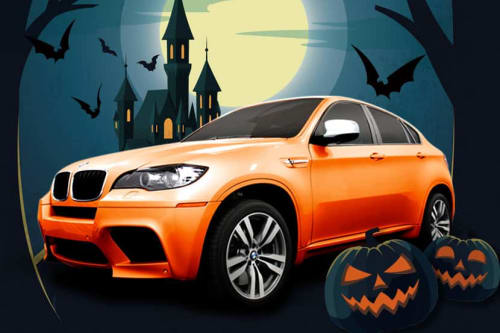 Tint World® offers tips to terrorize your ride
Presuming you don't have a hearse or ready access to a mummy or corpse to prop up in the passenger's seat, getting your vehicle Halloween-ready can require a bit of creativity.
Tint World® can help spookify your vehicle with a range of wraps and graphics, and remove them at the end of the holiday. We're happy to oblige, but here are some courtesy tips on how to turn your hoopty into a moving horror show perfect for trunk-or-treating or rolling to a Halloween party with the fellas:
Yar your car: Speaking of your crew, one thing to do is to keep the theme of the car decorations in keeping with your costumes. Dressed as pirates? Well, fly the skull-and-bones from your antenna. Yar! If you want to take a less-sinister approach, go with a family-friendly Disney theme. Frilly princess streamers? Giant mouse ears on the roof? Why not?
Sinfully simple: One easy route is to buy spooky car accouterments from one of those Halloween costume and décor shops that pop up about this time every year. You can also use nonpermanent markers or soap to give your ride some ghostly spiff. But a zombie arm hanging out of your trunk is always a classic option.
Scare crows, and others: Create a casket that fits atop a luggage rack or on a bike carrier. Here are some instructions for making a coffin. Or strap a scarecrow to the top. But keep an eye on him – jeepers! If you have a pickup truck, you have even more options, but don't do anything foolish that could cause a wreck or get you pulled over.
Keep it light: Wrap some battery-powered orange lights around your vehicle. This is a simple yet colorful and seasonal trick.
Plow some zombies: Smear your hood with fake blood and attach some zombie limbs and heads to your ride. People may think you saved the day by plowing over zombies intent on spreading their undead plague to the living. You can be a Halloween hero.
No matter which technique you use, the ideas above can get you started on the road to Hades as Halloween approaches.
Or you can contact the Tint World® nearest you for some of those crazy-scary graphics and wraps to scare some fun up in the days and nights leading to Halloween.