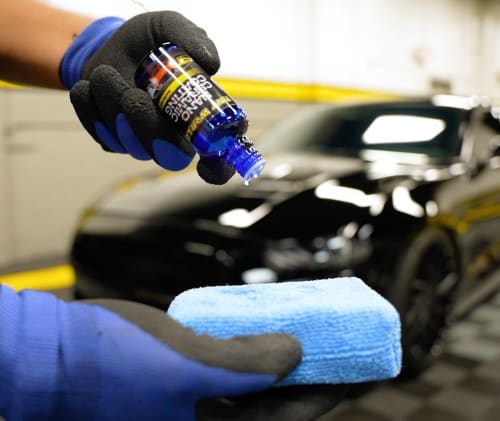 Stumped for holiday gift ideas? Can't decide what to get for the person who has it all?
Look no further than Tint World® Nano Ceramic Coating.
Our advanced proprietary ceramic paint coatings add a durable layer of super-glossy scratch- and water-resistant technology that protects any vehicle's exterior from extreme conditions and exposure to the elements.
Even better, Tint World® Nano Ceramic Coating offers peace of mind. The industry's premium protection solution is available with a two-year, five-year, or lifetime warranty, so any vehicle owner can have confidence that their investment looks great, will last longer, and will hold its resale value.
Is there anyone on your holiday gift list who wouldn't appreciate that?
Here are just some of the major benefits that come with Tint World® Nano Ceramic Coatings:
9H ceramic protection against scratches, chips, UV rays, corrosion, stains, and extreme heat.
Advanced protective care so your vehicle stays cleaner, longer.
Ultra-glossy mirror finish.
Self-cleaning properties.
Less maintenance.
Years of protection.
If that's not enough, Tint World® Nano Ceramic Coating doesn't just protect cars, trucks, and SUVs.
It can also be applied to glass, plastic, metals, chrome, vinyl graphics, fiberglass, carbon fiber, and leather surfaces to protect the interior of your vehicle. Our ceramic coatings are specially formulated for on-road and off-road vehicles, and you can even use it in your kitchen, where it protects appliances and heavily used surfaces from scratches, dirt, corrosion, extreme heat up, and other hazards.
Now that you know all the ways Tint World® Nano Ceramic Coating can make life better, you'll never again have to worry about finding the right holiday gift for anyone.
To start your holiday shopping, visit the nearest Tint World® location.