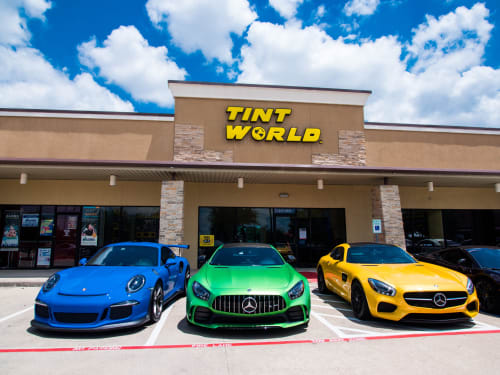 What happened to your vehicle? When did it lose that showroom finish? Where did those dents, dings, chips, and scrapes come from? And how did the interior get so washed out?
Maintaining the appearance of your car, truck, or SUV isn't just cosmetic. Even minor damage can get worse if it's not fixed, eventually compromising the vehicle's performance, and maintaining like-new condition inside and out is critical to holding the potential resale value or avoiding exorbitant lease fees.
So why not give your vehicle a little TLC this holiday season?
At Tint World® Automotive Styling Center™, we have the tools, experience, and know-how to help you get your vehicle back to its showroom state. Our expert automotive reconditioning professionals give every vehicle they work on the same close care and attention they would for their own automobiles, and our reliable products ensure you'll get the industry's top service.
From cracked windshields and chipped paint to faded interiors and drab, dull finishes, Tint World® offers top-quality repair and replacement as well as value. Our complete range of services includes reconditioning interior panels and upholstery stains. We even offer headlight restoration service that will help you see better and drive more safely. We really do handle everything, including:
Ding and dent removal
Paint chip touch-up
Windshield damage repair
Interior repair
Headliner replacement
Headlight restoration
With our comprehensive reconditioning service, Tint World® can help you avoid the expense and hassle of body shop repair in many cases. Even better, most reconditioning services can be completed in less than two hours.
Remember your car, truck, or SUV when you make your holiday gift list this year. Tint World® reconditioning services offer industry-leading value and convenience for enhancing the look of your vehicle and elevating your driving experience. Visit the nearest Tint World® location for more info.