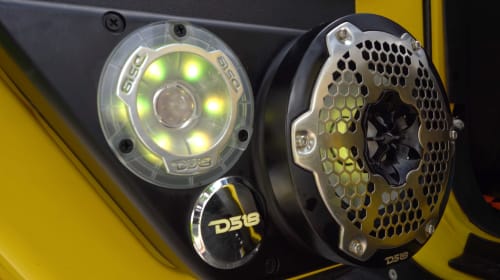 This is the season of giving. So why not give yourself the automotive audio upgrade you deserve?
With Tint World®'s full line of audio system products and services, there's a premium stereo package to fit any driver's personal style and budget this holiday season. From a basic update of your car, truck, or SUV's factory stereo to a full-blown competition system, our expert audio and electronics technicians can help you find the perfect gift for you and your vehicle.
We specialize in custom automotive audio systems and expert installation. Here are just some of the popular features and components Tint World® offers for the automotive audiophile:
Complete audio and video systems: Tint World®'s industry-leading selection of components from the top brands lets our team of trained and certified professionals help you build the personal automotive sound system of your dreams. And expert installation ensures you can crank the volume with confidence.
Speakers: Quality speakers create fuller sound and clarity for any system, whether it's a factory install or a high-end custom package. Check with our experts to find your perfect fit.
Subwoofers: From basic to booming, a subwoofer can take your vehicle's sound to the next level. Explore all the options available and consult with a Tint World® audio tech to find the right bass for your ride.
Auto amplifiers and equalizers: Boost the power and quality of your system's output with the right for amplifier or equalizer for your vehicle.
In-Dash receivers: Connect your new system with an in-dash receiver. Advanced technology allows you to stream music and podcasts while managing your audio and electronics, including navigation and guidance, from one convenient location.
Don't forget to include yourself on your holiday shopping list this year. Turn your current automotive audio set-up into your dream system with a gift for your ears from Tint World®.
Visit the nearest Tint World® location to learn more or to schedule an appointment.