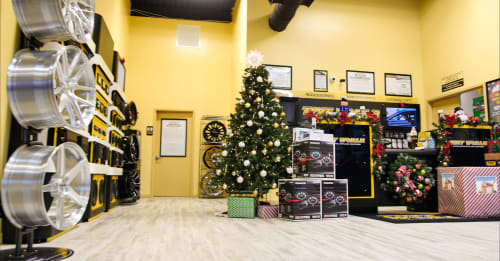 The holidays are almost here, and that means it's time for holiday travel.
If you're planning one or more road trips this year as part of your family's holiday festivities, make sure your vehicle is ready. Tint World®'s professional automotive maintenance service and our comprehensive selection of upgrade options provide comfort and peace of mind as you hit the road.
Start with an inspection. Our expert inspection service ensures your car, truck, or SUV delivers safe, efficient performance, wherever you're headed. Tint World®'s ASE-trained and -certified professional technicians will dial in your vehicles engine, tires, brakes, and other essential features to ensure you get where you're going.
Don't forget to take advantage of the many driver assistance solutions now available. If your vehicle is more than a few years old, consider Tint World®'s wide range of driver safety features, including advanced driver assistance, crash avoidance, backup camera, parking assistant, and blind spot detection systems.
Our forward crash and lane departure warning systems monitor your vehicle's speed, the speed of the vehicle in front of you, and the distance between the two. The system will alert you if you're getting too close to another vehicle, allowing you to slow down and avoid a potential collision. Our ADAS collision systems also have the added benefit of a built-in digital video recorder, just in case you need video evidence in the event of a collision. And Tint World®'s blind-spot monitoring systems use sensors to detect vehicles in adjacent lanes and alert you with an audible or visual warning.
Finally, don't forget about comfort and convenience. We offer highly customizable remote start and security packages as well as the industry's best wireless charging, in-dash receivers and unbeatable audio, video, and entertainment options. And with installation from our trained electronics technicians, you'll have complete confidence for all your holiday travel.
To learn more about how Tint World®'s maintenance and repair experts can help keep you safe this holiday season, visit the nearest Tint World® location.