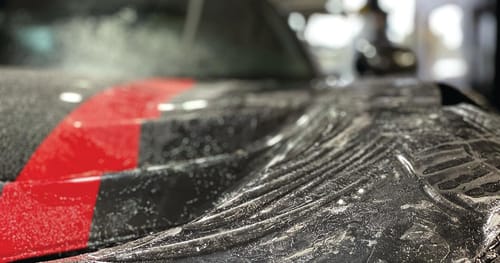 Road debris can be extremely harsh on vehicles whether it be salt, slush, dirt, rocks, or grime. These elements can damage a car's paint job, causing costly repairs to fix. But there are ways to prevent and protect your vehicle from sustaining such damage.
One option to protect your vehicle is paint protection film. Tint World's protection films have been designed to protect against road hazards such as gravel, debris, road salt, stones, and much more.
Tint World's computer-cut protection film can be fitted to any current vehicle's hood, fenders, mirrors and bumpers. Taking between three to five hours to install, the 8 mm-thick covering is nearly undetectable and includes a nationwide five-year warranty. If you're looking for protection and style, Tint World's paint protection film is also available in a variety of colors and finishes such as gloss black and transparent matte.
Another option is heading to your nearest Tint World® location and having trained technicians apply Nano Ceramic Coating to your vehicle. Not only does it give your vehicle an ultra-glossy appearance, but it also offers years of advanced ceramic protection from corrosion and contaminants.
With a lifetime warranty available, Tint World's Ceramic Coatings protects vehicles from UV damage, oxidation and acid rain while also holding up against extreme heat. The product offers 9H hardness protection to create extreme scratch and chip resistance. Tint World® offers ceramic coating services for exterior paint, interior textile, rims, and glass — they can also ceramic coat vinyl wraps and graphics, and protection films for added protection.
For more information about Protection Films and Ceramic Coatings for your vehicle, just contact your local Tint World® today!