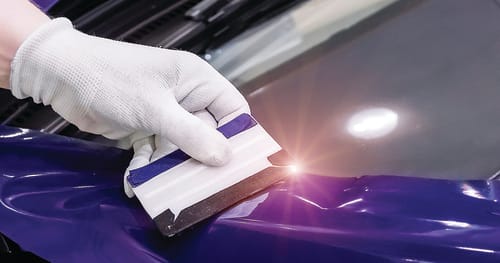 Are you ready for a new look for your car or truck? You don't have to buy a new vehicle to get the customized style you crave. And you don't have to commit to a permanent paint job, either. Vinyl wraps have come a long way, with the technology advancing to give longer life, better performance and more flexible options. Here are just a new of the popular trends in vinyl wraps.
Texture
Are you tired of the same old finish on your vehicle? Maybe you want something head-turning and truly unique. Vinyl wraps can give your car or truck a brand-new texture. Options include matte, carbon fiber, brushed metal and even wood grain.
Graphics
You've seen commercial vehicles wrapped with advertisements. Why not add a graphic element to your personal car, too? With custom graphic design and printing capability, vinyl wraps can add whatever design you want. The only limit is your imagination. Racing stripes, team logos, animal prints, abstract patterns, characters and even photographs can be added to your vehicle with a graphic wrap.
A New Color
These days, cars seem to come in nothing but neutral tones. If you want to break free of the herd, a vinyl wrap can change the color of your vehicle to whatever you want. Bright metallic red to deep matte purple are just two of the catchy options within your grasp when choosing a vinyl wrap. Whatever change you're looking to make, Tint World® has you covered. Our high-tech computer-based design and wrap cutting system will give you the style you want with the best fit possible. Our installation experts will make sure your wrap is installed perfectly, and our five-year guarantee stands by the quality of our work. If you would like to learn more about vinyl wrap options, paint protection film, or window tint, just contact your local Tint World® today!